SL 22 SD Tradeaboat
It's a well-balanced boat in all senses of the word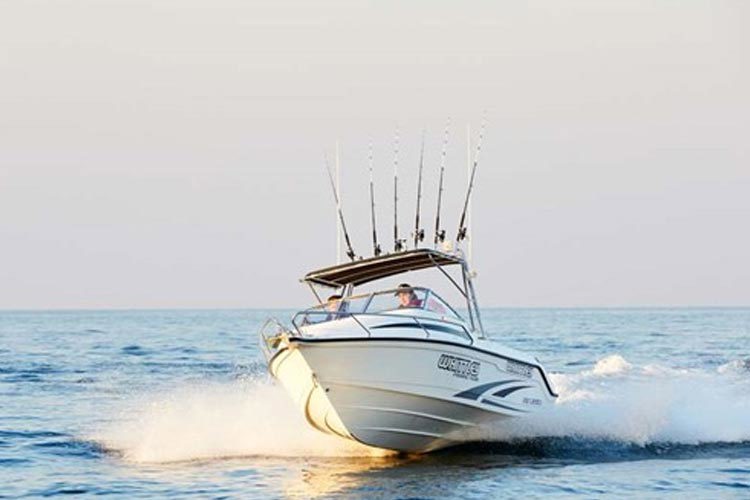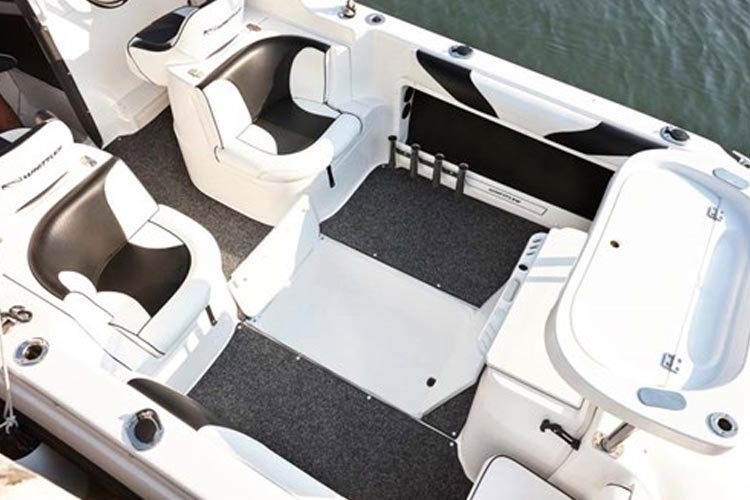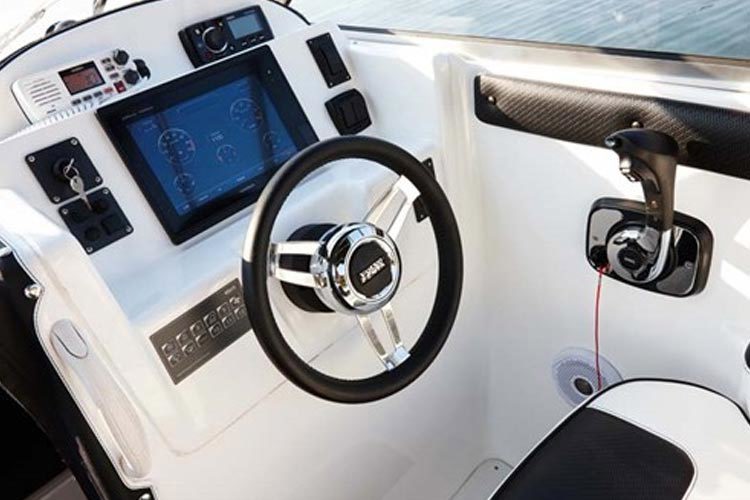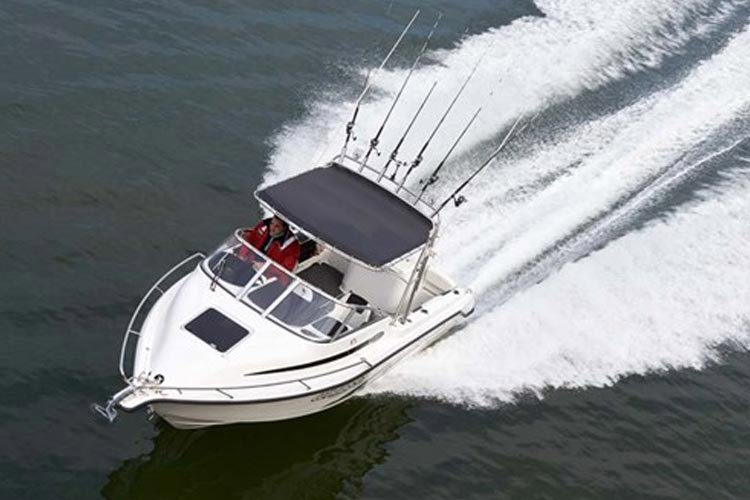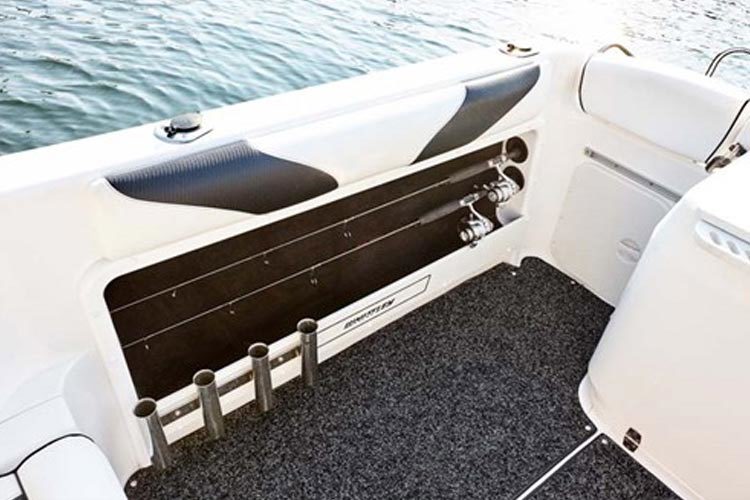 The Sea Legend Whittley SL 22 is a legend proper. Known for their ride and feel on the water, they are a thing of folklore at pubs around Australia.
The positive ride comes from an aggressive 23-degree transom deadrise that rolls out to a prominent set of strakes and fine bow entry. Low-down weight, courtesy of the sterndrive Volvo, and the epic grip offered by the Duoprop leg aid the cause. They handle like go-karts, cut waves with surgical precision and land fuss-free. When it comes to fishability and family fun, the SL 22 has plenty of space and storage, easy-to-use handling, soft touches and a layout designed with the growing family in mind.
WHITTLEY SEA LEGEND 22
Being Whittley Boats' most popular Sea Legend hull – demand has one leaving the Melbourne factory every week – change is not necessarily a good thing; the hull is great as it is, after all. Innovation comes from teaming up with the latest offerings from Volvo and in how the hull is presented. The economic Volvo Penta V6 240G with Duoprop leg gives performance an outboard can't. Grip is fantastic, noise low and economy high while inside the hull, the deck is a single mould with seats integrated for additional strength and comfort.
DESIGN AND LAYOUT
The Whittley SL 22 is a traditional family-friendly cuddy, with space up front for short stays or as a hideout for young 'uns, plus room down back for comfortable fishing for four. The design is classically appealing. The helm is well laid-out and the space for the larger among us is a highlight. Dash space on our test boat was not massive but new Whittley SL 22 boats have had a revision that allows units up to 16 inches to be fitted. An impressive Fusion sound system comes as standard and is neatly moulded into the cabin sides. Fabrics are modern and inviting, and soft pads have been placed at strategic touch points such as the coamings and beside the side-mounted binnacle. The seating position is high – practical for launching, retrieving and safety. The seats have a quality feel, which is no surprise given they're made in-house under the careful watch of a dedicated team implementing the quality process. Moulded seat boxes offer masses of storage and are drainable should they need cleaned out.
FINISH
Although timber still finds its way into both the hull construction and some of the fixtures on board, the quality is high. Mouldings are tight and rattle-free while fabrics feel high quality and the stainless work is neat and tidy. Whittley boats are almost entirely constructed in-house, with only fittings and small fixtures such as rod holders and hatches coming from suppliers. Impressively, a bimini with clears, two-tone paint and other features are standard and suit the boat well visually.
ENGINE PERFORMANCE
The Volvo Penta 240C is a perfect match to the Whittley SL 22. It has the low-down grunt to push the deep-V hull onto the plane easily and is smooth and quiet at high speed. The bottom-end grunt comes from the engine's modern technology and capacity. At 4300cc, the V6 is big for its horsepower rating and combined with technology like direct injection and variable valve timing this makes the engine responsive and feel effortless at speed and under acceleration.
Optimal cruise arrived at 4000rpm which returned 26kt at 34L/h for an effective range – with 10 per cent reserve – of 145nm, enough for a weekend of watersports or fishing. At optimal cruise, the fuel burn rate of 0.74nm or 1.37km per litre is fairly good and matched only by the best outboards.
At wide-open throttle we saw 0.51nm per litre at 74L/h, which is less fuel burn than most outboards, an excellent result. At a fast pelagic trolling speed of 7kt, the engine was ticking over at only 1750rpm and burning 7.8 litres per hour. That's 0.9nm per litre and gives a range, with 10% reserve, of 170nm or 314km. This is outstanding for such a deep V hull and will appeal to the offshore fishing fraternity.
WHITTLEY SL 22 SEA TRIALS
Volvo 240G V6 stern drive, DPS drive and FH4 Duoprop propellers 210L fuel tank (range calculated leaving 10 per cent reserve).
650rpm reaches a speed of 3kt with fuel burn of 2.2L/hr for a range of 258nm
3000rpm reaches a cruising speed of 14.2kt with fuel burn of 22.5L/hr for a range of 119nm
5500rpm (WOT) reaches a maximum speed of 37.8kt with fuel burn of 74L/hr for a range of 97nm
* Sea-trial data supplied by the author.
HANDLING AND RIDE
For a 6.5m boat, handling and ride are as good as they come. We threw the Whittley SL 22 at Victoria's challenging Lakes Entrance bar while it was running out, wind against, and it made light work of the compressions and troughs. The hull likes to ride bow up but allows for trimming in for tight turns. The prominent strakes help lift the hull under acceleration and the low-slung weight of the engine keeps the stern dug in nicely. When we found air, the sharp and progressive deadrise had the hull landing softly. In turns especially, the grip offered from the Duroprop was exceptional. It allows the hull to lean into turns – but not too far – and stops all most all ventilation.
STABILITY AT REST
Stability at rest is always a tough ask for a hull with sharp deadrise. One way to deliver it is through large reverse chines, a mainstay for many deep-V aluminium hulls. Heavily pronounced chines help stability and grip in turns but often result in a harsher ride.
Another way to increase stability is through higher on-water weight, which still requires good hull design or it could exacerbate inherent problems. It also reduces economy and demands more power. Many fibreglass boats are more stable than their alloy counterparts thanks to weight rather than design.
Sterndrives afford designers the simple and smart solution of lowering the centre of gravity. The SL 22 has most of its weight down low, well below the coaming line and central to the keel. The hull still features chines that help in turns but the low-slung weight is the hero here, making the SL 22's deep-V hull as stable as anything in its class.
ERGONOMICS
The helm is good with the screen the right height above for wind deflection while seated or for visibility over it when standing. Inside the cuddy, head height is good thanks to slimline cushioning.
The standard bimini can be set to your height from the factory and can accommodate clears. In the cockpit, coaming pads work well with toeholds under the sizeable pockets and around the engine compartment, there is plenty of fishing space for four. The bait board is set at a nice high height and is removable when family duties arise.
Speaking of the family, Whittley mounts its cassette toilets right at the bow, not to the side like some, giving better leg room. The berth itself is long enough for most people to take a nap and provides privacy by way of a zipped canvas screen.
Our test boat featured button-down carpet, a nice touch for comfort but it could have been more securely fastened as we experienced an occasional slip when leaning over a coaming. Along with the dash revision mentioned earlier, we're told Whittley now uses a rubber matt that's less prone to slippage.
STANDARD EQUIPMENT
The options list on the SL 22 is short, not because the factory doesn't listen to owners but because almost everything you want comes standard. Impressive standouts are the plumbed live well, full berth cushion including infills, sink, rear shower and the cassette toilet making for a family-friendly fishing weapon. When comparing boats, it's worth looking at the costs of options like these as they can inflate a price dramatically – but not the Whittley.
WHITTLEY SL 22 PRICE
Starting at $XX,XXX with the base 200hp Volvo Penta V6 (200Gi) and SX leg, the Sea Legend SL 22 is good value when you take into account the extensive standard features list. With the upgraded 240hp V6 (240C), Duoprop leg and listed options, expect to pay about $106,000.
THE TRADE-A-BOAT VERDICT
The shining memory from our days on the water testing the SL 22 was how well rounded the boat was. It proved great in offshore rolling swells and had no issue in the sharp, tall chop at the Lakes Entrance bar but then in the calm, it showed it was also a calm, quiet, easy-going family boat that was economical, stable, predictable to drive and had everything a family needs. It's a well-balanced boat in all senses of the word – it sits well at rest, has the features you want and rides like a thoroughbred.
WHITTLEY SL 22 SPECS
WHITTLEY SL 22 PRICE: $XX,XXX
Priced from
OPTIONS FITTED
Upgraded engine, Duoprop leg, hot water system, cabin divider, rear carpet, electric winch, bait station, dual batteries, Garmin electronics and extended bimini
PRICE AS TESTED
$XXX,XXX
GENERAL
MATERIAL Fibreglass
TYPE Crossover
LENGTH 6.5m
BEAM 2.26m
WEIGHT 1949kg (Stern drive)
CAPACITIES
PEOPLE 7
FUEL 210L
WATER 20L
ENGINE
MAKE/MODEL Volvo 240G
TYPE Direct injection petrol V6
RATED HP 240
DISPLACEMENT 4300cc
WEIGHT 404kg (inc DPS drive)
GEAR RATIO 1.85
PROPELLER FH4 Duoprop
MORE INFORMATION
Whittley Marine
99 Freight Drive, Somerton, Melbourne, Vic
Tel 03 8339 1800
Review Details
Publication:

Tradeaboat

Writer:

Tim Van Duyl

Article Link: