SL 20 SD Boatsales Overnight Review
If you're thinking about giving boating a go, put any fears to one side and dive on in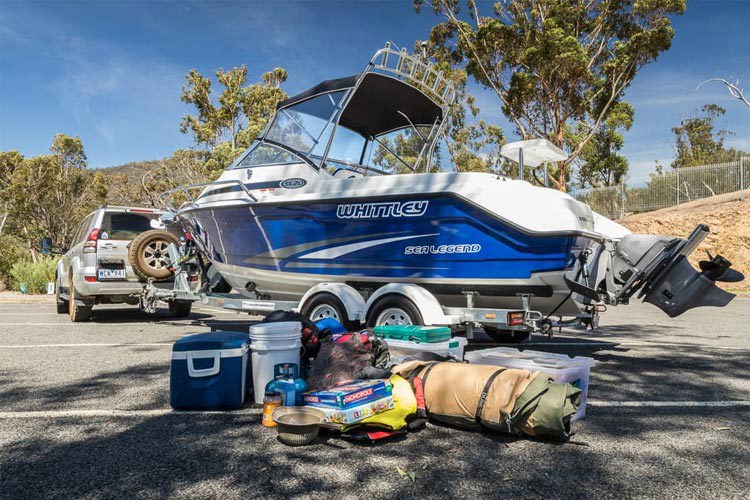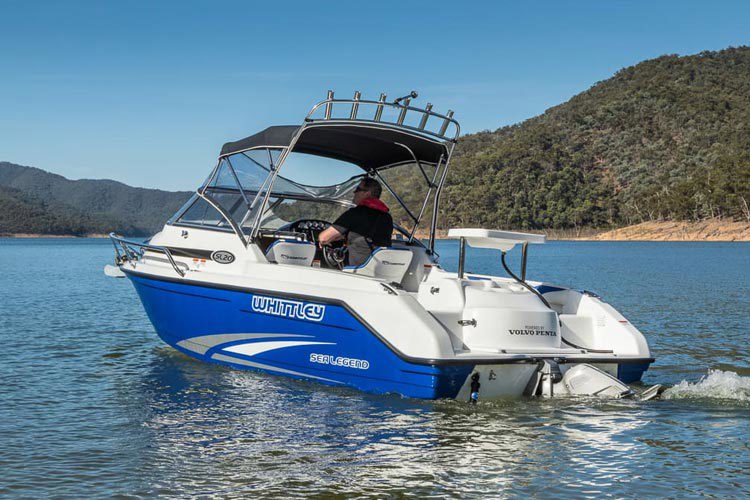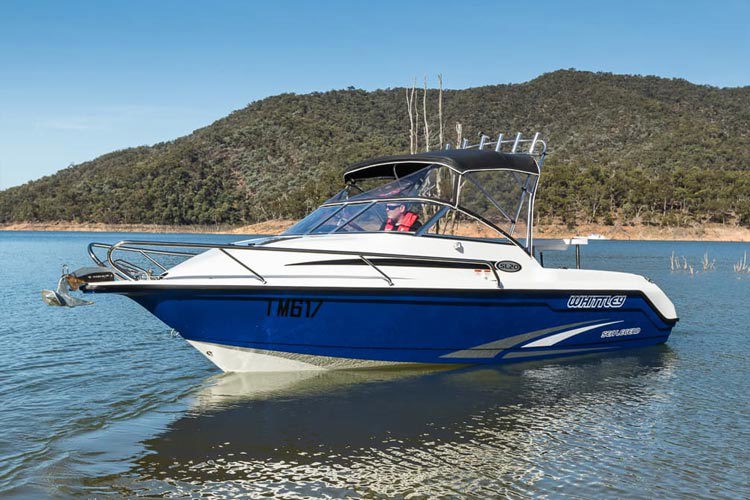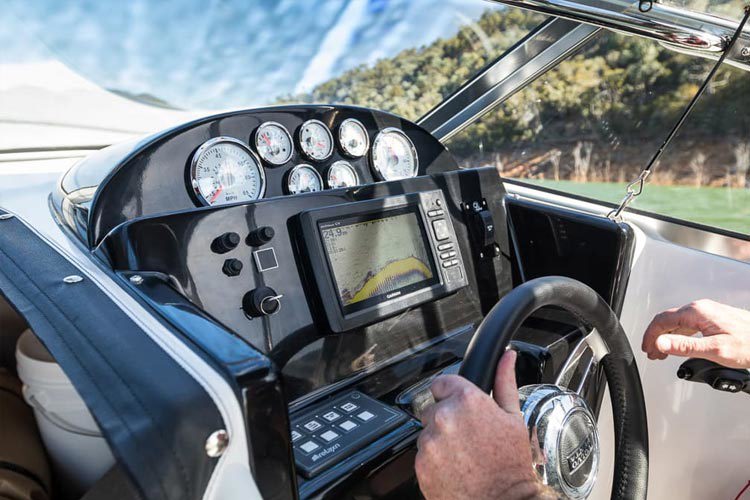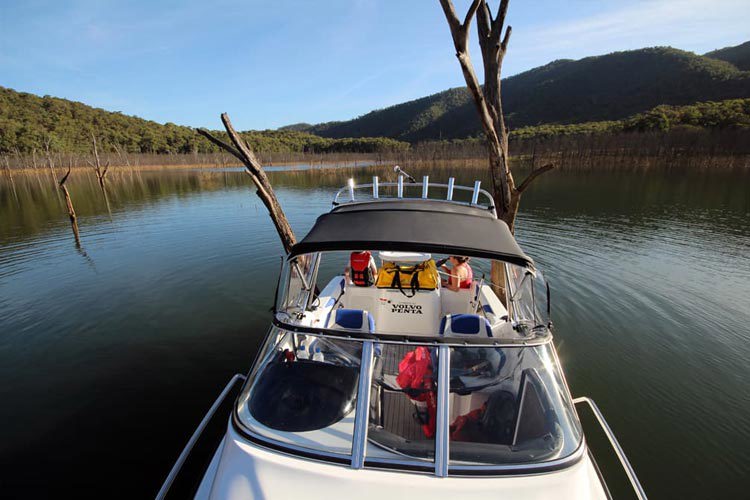 A family of campers dives headlong into the boating lifestyle with an overnight test of the $80k Whittley Sea Legend SL 20
My family and I have been camping in tents and camper trailers forever. We love escaping the city and enjoying the freedom and isolation Australia can so easily offer, but recently we've been toying with the idea of extending our outdoor pursuits to boating — and that's where Whittley's SL 20 comes into the picture.
I've held a boat licence for years — a byproduct of dabbling with some Personal Water Craft ages back — but I've never put it to good use in the traditional boating sense. However, the recent arrival in our family of a Toyota Prado got me thinking. Now I could tow a boat big enough to have all the comforts a family of four could want, right?
I wanted to give boating a go, but I had some concerns — largely centred on launching the thing and later getting it back on the trailer. Even I, a non-boatie, had heard of the term 'ramp rage', and I was pretty sure I didn't want to be the focus of a line of angry skippers, all waiting to launch at the ramp while Yours Truly fumbled about at the water's edge…
Then there were potential issues on the family front. My two boys, seven and nine, were well up for the adventure but my wife was, err, less so. Her terse: "Why would I want to do that; I hate boats" kind of summed up her sentiments here…
Turns out that view stemmed from a few dodgy boating experiences as a child, when she was subjected to a rickety old boat liberally coated in fish guts — not the sort of thing to spark a lifelong passion in just about any young girl.
This time, however, things would be different. Whittley Marine was happy to loan us a brand-spanking new Whittley SL 20 — the entry point to its Sea Legend range of fishing boats — which our rusted-on boatsales.com.au boating crew has tested in full detail previously, mind you. Here's the Whittley SL 20 boat test from Lake Eildon with a different video from the occasion.
But I'd be using our Prado to tow the Whittley SL 20 which, with fuel, water and all the items that accompany a family outing, would place the rig up near its 2500kg braked-towing limit. And its the newbie family angle that makes this story so worthwhile...
I hold a Heavy Combination truck licence and I review anything up to prime movers for boatsales' sister site trucksales.com.au, so at least I wasn't going to lose any sleep over towing or reversing down the ramp.
So a plan was hatched: I'd collect the boat from Whittley, in Melbourne's northern suburbs, and head up to Lake Eildon with our resident snapper (the photographer, not the fish), Rene.
When the acrid stench of burning clutch plates assaulted my nose, I learned my first boating lesson: always engage low range when pulling a vehicle's full towing capacity up a boat ramp!
In any case, Rene and I then had the boat off the trailer in short order, perhaps with a little assistance from an onlooker who had just launched his wake boat. That dispelled those 'ramp rage' fears entirely — everyone I spoke to at the ramp, both when launch and retrieving, was thoroughly friendly and helpful.
After an afternoon of 'work' — and yes, I use the term loosely — Rene would return to Melbourne and I would head back to the ramp to collect the wife and kids, who were driving up separately.
READY FOR LAUNCH
After transferring our gear from the Prado to the Whittley SL 20 — in the carpark, not on the ramp, I might add - I backed the rig down the ramp with the confidence of someone who'd done it a thousand times before - or at least I did until I realised I stuffed up and needed to pull forward to straighten up.
With the Whittley in the drink Rene then had a busy few hours of photo and video work, while I tried my best to look nonchalant at the helm. You know, that semi-smug-I-know-what-I'm-doing' expression… Then it was back to the ramp to face the weekend's real test: winning my wife over to the joys of boating.
Actually, over two glorious 30-degree days with barely a cloud in the sky, and against the stunning backdrop of Lake Eildon, this wasn't too big a challenge. And although Whittley's SL 20 is billed as an offshore-ready fishing boat, it'll just as easily accommodate a family and most of the pursuits a family would want to enjoy: watersports, cruising, and in this instance exploring Lake Eildon's many sprawling arms and deserted coves.
We have a lot more Whittley boat tests on our sites if you're in the market.
THE FAMILY BAPTISM
As we edged beyond the 5-knot speed restriction and I slowly opened the throttle, watching the smiles erupt throughout my family was a sight to behold. 'Easy does it', I thought to myself, 'Don't blow it now!'
Through motorcycles, cars and trucks, I regularly get to indulge my rev-head tendencies. But with up to 200 ponies on tap courtesy of the Volvo Penta V6 sterndrive, it would be easy to push past first-timer fun into bottom-lip-trembling concern — for the youngsters, at least, if not the missus!
This single-prop sterndrive features liquid cooling and variable valve timing, and it has a salt flushing system to keep the dreaded corrosion at bay — not that this was going to be a problem on Lake Eildon…
I spent the next 30 or so minutes slowly pushing further into the Whittley SL 20's performance envelope, until we eventually ended up at Wide Open Throttle and the boat skipping sweetly across the water at a shade under 64km/h. From then on, the crew were sold - the more figure eights and jumps off the wake of passing craft, the better!
As a first-time boater I was impressed with the effortless power and torque of the 4.3-litre V6, and I liked how the sterndrive format really tidying things up at the transom, as opposed to an outboard. The throttle response is also good, which made docking at the fuel barge at the Jerusalem Creek marina a fraught-free affair.
We probably could have made do with the remaining fuel in the boat's 150-litre tank, but the last thing I wanted was to end up stranded half-way back to the ramp with my family on board - in went another 60 or so litres, just to be safe.
BIG RIVER ADVENTURE
With the tank topped off we set out to explore Big River, which flows south into Lake Eildon from its headwaters, some 60km away on the slopes of the Yarra Ranges. I've spent a lot of time around here both four-wheel driving and more recently hunting, but I'd never enjoyed this rugged region from a boat and I loved the fresh perspective.
There's plenty of dead standing timber in these parts, reminders of how the lake's level rises and falls through the years, and we found two such trees perfectly spaced to fit an SL 20. Note to self: learn how to tie some serviceable knots - at least I remembered to throw out a couple of fenders to keep any scuffs and squeaks at bay…
The afternoon passed with plenty of swimming in the river's refreshing, translucent green waters, playing Uno and fishing. They boys loved casting and retrieving the lure in hope of a brown or rainbow trout (or any aquatic species, for that matter), and while the lack of results couldn't dampen their spirits, they eventually settled for 'Plan B': nibbles, followed by dad's pesto pasta…
'Wine time' is a time-honoured ritual among campers and the RV set, and it's a natural fit for boating too. In no time the baitboard had been transformed into a platter, complete with cheese, grapes, crackers and dip.
I'd taken along our two-burner stove and a small gas cylinder, so I cooked up a storm with a view to die for (not literally, and in any case the fire extinguisher was at the ready; it's a part of the comprehensive safety kit provided with each new Whittley).
We took along two large plastic storage containers from our camper trailer for our all our food, cutlery, crockery and pans, while the two padded seats that fit beneath the main seat boxes double as sizeable coolers. They're quality units, too; our perishables remained ice cold for the duration of the trip.
Then, just as it was time to break out the chocolate, the sun slipped beneath the nearby ridgeline and the stars slowly came out to play. It was a truly memorable few hours, as the boys marveled at a spectacular night sky and the only noise, bar the chatter on the boat, was the 'plop' of a distant fish breaking the water's otherwise mirror-like surface.
COSY CABIN
Okay, so the 'little' Whittley SL 20 was a bit of a squeeze with four aboard, at least when it came to overnighting. The forward cuddy cabin has infill cushions to form a comfy vee-berth, but it's really best for two adults, even if the boat is rated for a maximum of six occupants.
That's why I'd taken my swag, so when Megs and the boys cuddled up in the cosy cabin, I stretched out on the deck and enjoyed a celestial light show of shooting stars as I drifted off to sleep.
The forward hatch floods the cabin with light during the day and it's big enough to fit an adult as they haul in the anchor. There are side pockets for storage that extend for the full length of each side of the cabin and the headlining is finished in a plush, suede-like material.
Beneath the forward centre infill was a compact chemical loo. This optional feature was appreciated by my wife in particular, as was the vinyl cabin divider, which provides both protection from the elements and complete privacy if desired.
There's full-length rod storage to keep hooks safely stowed along with a rocket launcher, four more rod holders in the gunnels, a comprehensive bait board and, beneath the deck, a sizeable plumbed underfloor fish tank. As fish eluded our hooks all weekend, it proved a handy spot to stow a couple of fenders instead…
This might have been my first proper boating experience, but Whittley's SL20 struck me as a handy all-rounder, just as at home when flicking lures in Big River as it was hooning around the middle of Lake Eildon, enjoying the power of that mighty V6.
With the hull's 23-degree deadrise it's also said to be ideal for slicing through the offshore chop, and that claim was backed up at the boat ramp by a bloke launching his Whittley SL 22. He'd just returned from a marlin-chasing trip off Bermagui (NSW), and he spoke glowingly of launching the boat off breaking waves, along with Whittley ownership in general.
Despite that offshore-ready deep-vee hull, I found the Whittley SL 20 to be quite stable at rest, and while we were at anchor the wake of passing boats never caught anyone, child or adult, off guard. And the generous freeboard gave a sense of security for our kids, which Megs and I also appreciated.
ROOM TO MOVE
Downsides? Only that for my lanky 188cm height, I struggled to find a truly comfy position at the helm. There's no height adjustment for the skipper's and passenger's seats, and sitting down put the top of windscreen right in my line of sight. Standing was better, but then my head was brushing against the bimini.
Also, the Whittley SL 20 could really do with some cup/bottle holders dotted about the place, and some secure cubby-hole storage for things like your wallet, phones, keys etc. And in this day and age some USB charging points wouldn't go astray, either.
Pulling in the anchor by hand lost its novelty soon enough and climbing back aboard via the rear boarding platforms after a swim also presented a challenge - the self-levelling Bennett trim tabs have sharp edges that can catch the unwary. Still, the Whittley SL 20 is an entry-level fishing boat, so I can't really complain. Stepping up to the SL 22 gets you more room and a variety of extras like a rear ladder, an anchor winch and a dual battery setup, so it's all down to budget.
As for electronics, our Whittley SL 20 was fitted with an optional 4.5-inch Garmin GPS and sonar. It was easy to use and reassuring to know the depth of water we were in — anything in excess of 60 metres in the middle of this massive impoundment, as it turned out.
OVER TOO SOON
Day two was simply more of the same — more sunshine, more exploration, more fruitless fishing and more family fun — but in seemingly no time we were heading back to the ramp for the Sunday exodus to the Big Smoke.
I'd been stewing over the prospect of getting the boat back on the trailer but I need not have worried. It really didn't take long to get a feel for managing the SL 20's sterndrive and steering for low-speed maneuvering, and after nudging onto the shore Megs held the boat while I put the kids in the back of the Prado and backed the trailer down the ramp.
Then it was just a matter of driving the Whittley SL 20 — gingerly — onto the trailer, and Megs hooking the bow eyelet with the winch strap... job done, with nerves, family and boat all intact!
SUMMING UP
Fish might have been off the menu but as a first family boating trip, we all loved our time aboard the Whittley SL 20 and our time on Lake Eildon.
The outing has given us a fresh perspective on enjoying the outdoors and a hunger for more boat-borne adventures. Even my wife — she of the "I-hate-boats" statement — had a brilliant time, and saw first-hand how a boat can bring families together, as electronic tablets and smartphones are ditched in favour of fishing, swimming, and generally mucking around in the fresh air and sunshine.
The experience has simply fueled my family's interest for all things boating, and we're now looking on nearby Victorian destinations like the Gippsland Lakes, Port Phillip Bay and Lake Eppalock with a renewed sense of curiosity.
In short, if you're thinking about giving boating a go, put any fears to one side and dive on in. We did, and we loved it - and we'll be back for more.
RATINGS
Overall rating: 4.7/5.0
Mechanical/equipment: 4.5/5.0
Packaging and practicality: 4.8/5.0
On the water performance: 4.8/5.0
Value for money: 4.8/5.0
X-factor: 4.5/5.0
PERFORMANCE
5.7kts (10.5km/h) @ 1500rpm
6.4kts (11.9km/h) @ 2000rpm
7.2kts (13.4km/h) @ 2500rpm
9.8kts (18.2km/h) @ 3000rpm
14.9kts (27.5km/h) @ 3500rpm (planing)
21.5kts (39.8km/h) @ 4000rpm
25.6kts (47.4km/h) @ 4500rpm
28.6kts (53.0km/h) @ 5000rpm
34.5kts (63.9km/h) @ 5500rpm (WOT)
Specifications: Whittley SL 20
Priced as tested: About $XX,XXX including Volvo Penta 200hp V6 sterndrive, non-feedback mechanical steering, Mackay tandem-axle galvanised steel drive-on trailer with mechanical brakes, front and side clears, anchor, rope and chain and 12 months boat and trailer registrations.
Priced from: $XX,XXXX as above as package including Volvo Penta 200hp V6 sterndrive, non-feedback mechanical steering, Mackay tandem-axle galvanised steel drive-on trailer with mechanical brakes, Garmin Echomap 4.5 fish finder/GPS, front and side clears, anchor, rope and chain, safety gear pack for four people, and 12 months boat and trailer registrations.
Length overall: 6.37m
Beam: 2.40m
Hull weight: Approx 1160kg (dry)
Towing weight: Approx 1,980kg (dry)
Length on trailer: 7.50m
Height on trailer: 2.20m (to windscreen)
Deadrise: 23 degrees
Maximum power: 200hp
Engine as tested: Volvo Penta 200hp V6 sterndrive
Fuel: 150 litres
Maximum Persons: Six
Supplied by:
Whittley Marine Group
99 Freight Drive
Somerton VIC 3062
Telephone: (03) 8339 1800
Review Details
Publication:

Boatsales.com.au

Writer:

Rod Chapman

Article Link: