SL 20 SD Boatsales.com.au
Good value baby Sea Legend offers plenty of good times afloat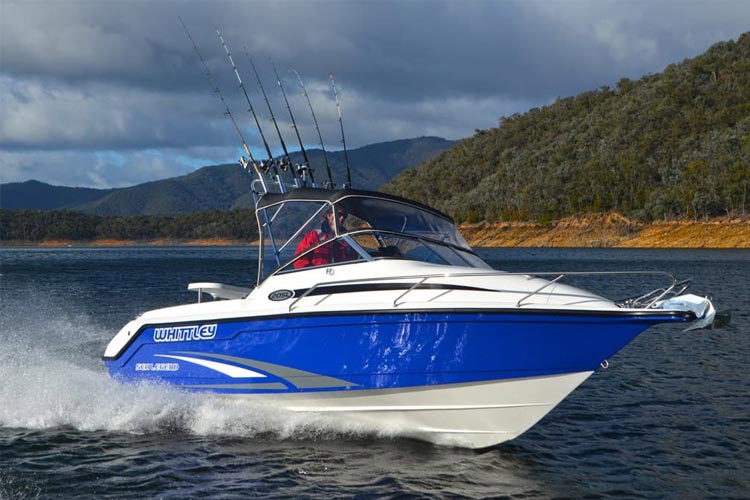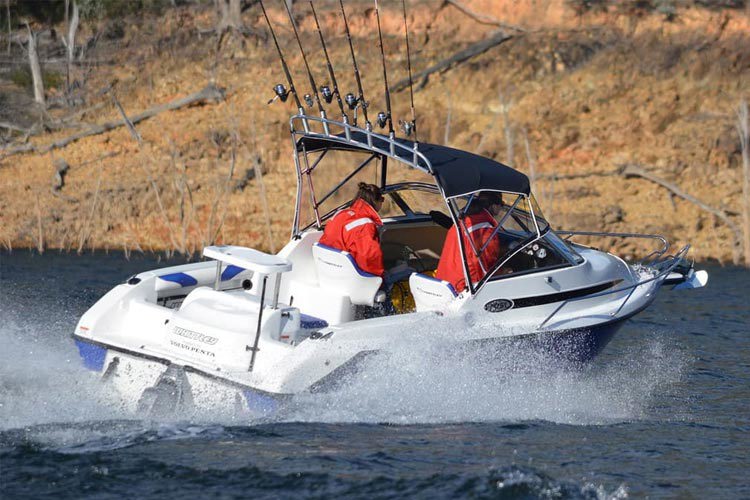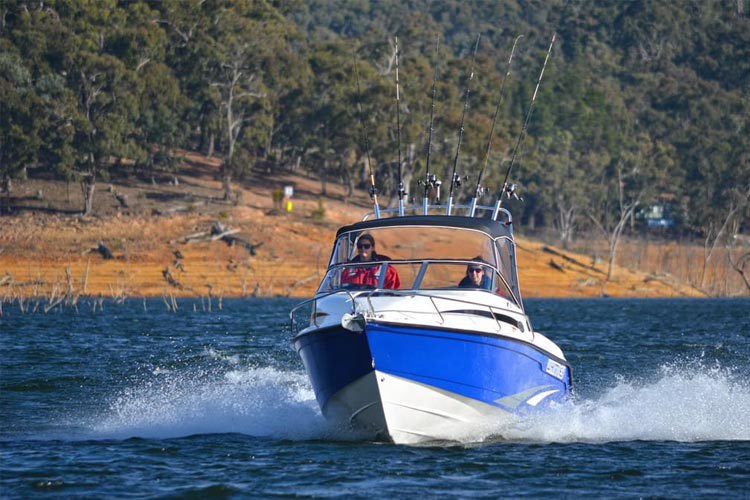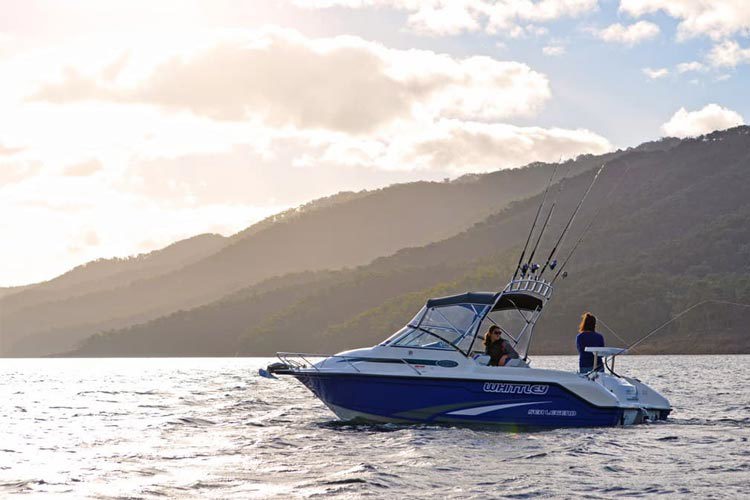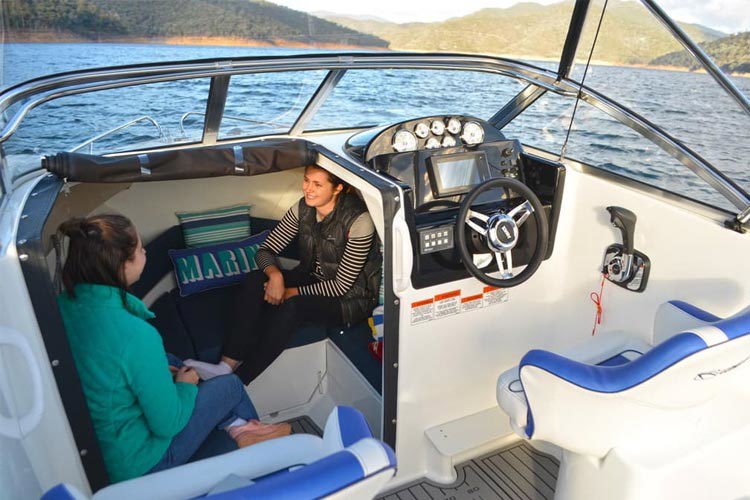 Volvo Penta V6 performance, all-weather comforts, top fishability and affordability
Family trailerboat builder Whittley is famous for its comfy Cruiser range and, in more recent years, the deep-vee Sea Legend line-up for offshore boating. This new SL 20 is the smallest Sea Legend ever, but it's big on features, costs about $20k less than the SL 22 on which it is based and, as we proved on a successful mid-winter trout trip to mighty Lake Eildon, there are plenty of good fish-raising vibes.
OVERVIEW
- Fishing spin plus family comforts in a nice-sized rig
The notion that fishing boats are necessarily devoid of comforts has been laid to rest by fibreglass-boat builder Whittley. By adding its family-boat heritage to a range of modern deep-vee hulls, the long-serving Melbourne yard has successfully created the well-furnished Sea Legend range of fishing boats.
With sterndrive or outboard power and rakish lines, the Sea Legends have sporty looks and strong performance to match. They also boast big cockpits, all-weather helm enclosures, plenty of in-built fishing features, plus that signature Whittley fit and finish that's a cut above. These aren't softcore sportfisher, but they are certainly luxurious compared to other pared-down rigs.
Previously, the Sea Legend range started with the SL 22 and ran to the SL 28 but the popular fishing fleet has now been expanded back down the line with the introduction of this SL 20. This is the smallest boat in the range, but it's big on fishing features and, a point of difference, it doesn't skimp on those creature comforts.
Set for its official debut at the 2017 Melbourne Boat Show — along with a new SL 25 based on the SL 24 — the new SL 20 offers a weather protected helm, cosy cabin and comfy seats that together extend your boating and fishing options. This is certainly what we discovered at Lake Eildon in mid-winter.
The day of reckoning dawned as we chipped the frost from the windscreen and wend our way through the lush national park to the long concrete ramp, while whipbirds cracked with approval, and trout lay in wait out yonder. Try doing that in a centre console!
With some rods in the overhead alloy rocket launcher, lures in the tackle boxes, and a decent depth sounder pinging away, there was that feeling the fish would be on the chew. As our shoot came to a close and the shadows lengthened, the winter cold rolled into the lake. That was a cue to start fishing.
We pulled on the beanies, fed the Tassie Devil lures astern, and embarked on our true mission — to catch a trout — when others might have pulled stumps and headed home for a hot tub.
PRICE AND EQUIPMENT
- Full factory fit-out and lots of kit but a keen price
Whittley does a great job of fitting out its boats to a high standard spec. This Sea Legend SL 20 had the latest freshwater-cooled all-alloy (GM) 200hp Volvo Penta V6 200 G petrol donk with an Aquamatic sterndrive.
The inboard-mounted engine created a feeling of unity and integration like only a good sterndrive installation can. As Volvo Penta re-chips this same engine to create 240hp and 280hp variants, there's plenty of power on hand, especially in the mid-range.
The only options were the cutting board on the transom and the Garmin multifunction screen upgraded from a 7in from a standard 4.5in. From a base price of $77,499, our test boat was priced at about $80k driveaway on a drive-on Mackay electric-brake dual-axle galvanised trailer. That's about $20k less than an SL 22 combo. On-road rig weight is 1980kg dry.
Buyers also get four no-charge hull gelcoat and interior colour combos to choose from — our SL 20 in the Azzura blue livery popped in the crisp high-country light — while other standard kit included LED lights, rubber flooring in the cabin footwell and at the helm, twin removable eskies, basic Bennett SLT spring-loaded tabs, and more.
Having said that, we would probably throw a bit more coin at the SL 20 stock boat and add independent trim tabs, an electric windlass, raw-water deck wash kit (because we tend to catch a lot of pelagics), maybe a chemical toilet for the family, and dual batteries if we intended running more electronics and bait pumps for fishing and so on.
LAYOUT AND ACCOMMODATION
- One of the biggest and best cuddy cabins in the 20ft market
While the cabin has been scaled back from the SL 22, it's still one of the best for a 20ft cuddy. The bunks are 1.80m in length, the footwell is deep so you can sit in comfort, and there's the option of a chemical toilet with plenty of headroom above.
The cabin lining, upholstery, hatch and sub-seat storage are all first rate, creating an upmarket cabin in which you could sleep. Having climbed out the cabin hatch to take photos, anchoring access also rates highly. There are walkround decks, too, but they need to be negotiated foot over foot. Of course, the best bet is to fit an electric anchor winch or windlass.
Thanks to the boat's broad beam there's room for three or even four anglers in the wide cockpit. You get twin stainless-steel rod holders, an overhead alloy rocket launcher, an underfloor fish box big enough for snapper, non-skid flooring, and decent side pockets with rod or gaff storage and padded coamings.
The twin pullout eskies under the helm seats bolster bait, drink and general storage, with split lids for access even when they are locked back in place under the seats. Their padded tops mean they double as seats, but I think this boat could do with pullout quarter seats in the cockpit corners. They would boost casual seating and simply lift away when fishing. It's an old but functional solution.
As it comes, the fishing cockpit is certainly uncluttered. The internal freeboard is another strong point, letting you gain a real sense of safety, and it extends to the transom. We had three adults trolling for trout, even netting and boating a fish, and it was surefooted and super safe all the way.
The SL 20 hasn't a swim platform option, not that anglers would want that, as there isn't sufficient water clearance for one. But as the sterndrive leg doesn't protrude too far, you can stand in the transom corners and gain good rod clearance. This was appreciated when we cranked a brown trout to the boat, proving the SL 20 is a decent fishing platform.
HULL AND ENGINEERING
- The latest Volvo Penta power and a reworked SL 22 hull
The freshwater-cooled, all-alloy (GM block) 200hp Volvo Penta V6 200G petrol engine has variable valve timing, direct fuel injection, Volvo power-assisted steering, and the QL Neutra Salt Flushing System is fitted as standard. The engine is backed by Volvo with a 2+3 year warranty from steering wheel to prop nut (if serviced through authorised dealers). There is excellent access to all main engine-servicing points and the bilge via dual folding front and rear engine 'bonnets'.
But the big boast from Volvo Penta is that this V6 200 G is apparently the cleanest marine-propulsion engine on the market today, with lower emissions levels that any outboard engine. After a day of mixed boating use including trolling, we were struggling to sniff a fume and, in the end, I stuck my head down near the leg and could only just register that this was a petrol donk.
The Volvo Penta V6 200 G comes with an SX or single alloy prop. A Duoprop upgrade will cost you about $X,XXX. Twin counter-rotating props do give a better all-round experience, especially in respect of grip in tight turns and hole shot. If you plan to do a bit of watersports and towing, or serious bar work and long-range running, then upgrade to DuoProp if you have the money. Yet this boat didn't unduly cavitate in tight turns or labour out of the hole with the alloy prop.
A set of trim tabs is a one thing we would definitely add. The basic spring-loaded non-adjustable Bennett SLT tabs on our test boat don't offer the same scope as adjustable tabs and, on a boat destined to cross open water en route to the fishing grounds, you want to stay on an even keel.
As for the hull, the SL 20 is essentially a derivation of the SL 22 with the same deep-vee 23-degree deadrise and 2.40m beam, minus about 45cm in hull length. Whittley has managed to still offer a truly spacious cockpit, as the inboard engine and its sound insulated box are compact.
Hull construction is time-proven fibreglass with 'glass-encapsulated stringers, vinylester blend gelcoat, a moulded deck liner that drains to the bilge, moulded front cabin liner, and moulded recesses for the fire extinguisher and EPIRB.
The boat has high-grade stainless steel rails, an armour-plate glass windscreen, and that top quality fit and finish throughout. The wiring is tin-plate marine grade and there's a waterproof switch panel on the dash. Battery access is through an internal transom hatch.
ON THE WATER
- Sporty performance, strong mid-range and a seaworthy attitude and feel
Thanks to standard bimini with front and side clears, we had a perfectly protected helm set-up from which to drive this boat. The moulded black dash was fitted with a traditional cluster of round analogue engine gauges and the upgraded Garmin Echo Map 7in GPS/fish finder.
The helm seats are comfortable buckets and the sight lines are great. But we really do insist on the seats being swivelling — not fixed — in a fishing boat, especially as the co-pilot will want to face back and watch the rod tips and lure spread when trolling. This was to be an option, we were told.
While the Volvo Penta V6 200 G is the latest technology, the mechanical throttle and shift are a tad old-school and, fresh out of the box, a little clunky in and out of gear. That said, this is a very nice boat to drive and we'd take it any day. Noise levels are moderate at full noise and, for the most part, conversation is easy to maintain when cruising.
As for performance, my notes read: easy power up to plane; not too much bow rise; strong mid-range; just a little cavitation in tight turns; dry and no porpoising; sporty performance; good ergonomics. Stability was another strongpoint.
Underway, the sweet spots were a 19-knot (35km/h) eco and easy cruise at 3500pm; 4000rpm for a smooth cruise of 22 knots (41km/h) where the boat feels in the groove; and high speed cruise at 5000rpm of 27 knots (55km/h) for a sporty ride and drive. Top speed on the day was 36.17 knots (67km/h) at 5800rpm WOT. So there's plenty of fun behind the wheel of this SL 20.
As for economy, this was the first Whittley SL 20 with the Volvo Penta V6 200 G and there were no fuel flow figures or means to gather them aboard. Aqua Power Marine that services Volvo Penta in Vic estimates 0.8-1km per litre would be a safe guess. The boat has a 150lt underfloor fuel tank.
Having already hit the bakery and Eildon Bait and Tackle Shop, it was time to catch a trout. We fed the Tassie Devil lures astern — a chartreuse, a white with dots, and a hot pink — and skirted the stands of drowned timber in the lee of a craggy point, which was now lit up in the afternoon light like a Turner landscape painting.
As my body was about to shut down, the strike jolted me from a hypothermic state. The rod bounced, arced and just sat there as the V6 engine did the torqueing. A few cranks and a beautiful Lake Eildon brown trout succumbed, swimming into the mouth of the landing net with a writhe and a wiggle.
The beautifully marked trout enjoyed a modelling session before release. We put the lures back out and dropped another fish before night descended like a curtain with a brick sewn into its hem. We made it back to the ramp, drove the rigs on the trailers in the near-dark, and drove back to the Golden Trout pub for roast of the day and a bed with electric blanket for dessert. Mission accomplished!
VERDICT
- Good value baby Sea Legend offers plenty of good times afloat
The intention of this new baby Sea Legend is to keep the price down and to keep it simple. We acknowledge that market positioning. The SL 20 with Volvo Penta V6 200 G is a big little boat with a keen sticker — you save about $20k over the SL 22 — and great value given the high-quality fitout and broad fish-and-family appeal.
As I wrote in my notes, the boat has a nice cabin-to-cockpit ratio. It might appear a tad blocky from some angles, but the nuggety looks are in proportion, the cabin is big, the cockpit is definitely fishable, and there's plenty of hull underfoot and in the water for serious offshore duties, as well as fun trips to place like Lake Eildon with the family.
Of course, the vast majority of Aussie boatbuyers say fishing is their motivation to hit the trailerboat road and get afloat. But the fact is most aren't the hardcore offshore diehards prepared to rough it and put in long hours at sea. There's usually a mum involved in the boat-buying process and often kids in tow, too. On top of this, variable weather conditions mean some form of enclosure and a lined comfy cabin can hold as much appeal as an underfloor fish box and live-bait tank with rounded corners.
This SL 20 is a great all-rounder and also an easy boat to own and operate. After a few days aboard, we reckon it's all you need for fishing and family boating on a diverse range of Australian waterways. Even a trout called Eildon with sore lip agrees.
HIGHS
>> A great balance between a big cabin and decent cockpit space
>> Plenty of features for fishos and family, plus a high-quality fit and finish
>> Latest Volvo Penta V6 200 G all-alloy freshwater-cooled petrol engine
>> Sporty performance and handling with strong mid-range
>> Turnkey boat/motor/trailer package is easy to tow, launch and operate
RATINGS
Overall rating: 4.78/5.0
Mechanical/equipment: 4.8/5.0
Packaging and practicality: 4.9/5.0
On the water performance: 4.8/5.0
Value for money: 4.8/5.0
X-factor: 4.6/5.0
PERFORMANCE FIGURES
- Whittley Sea Legend SL 20 with Volvo Penta V6 200 G SX
RPM SPEED
1000rpm 7kmh, 3.78 knots
1500rpm 10kmh, 5.40 knots
2000rpm 12kmh, 6.48 knots
2500rpm 14.6kmh, 7.88 knots
3000rpm 21kmh, 11.34 knots (clean plane),
3500rpm 35kmh, 18.90 knots (cruise)
4000pm 41kmh, 22.13 knots (smooth cruise)
4500rpm 47kmh, 25.30 knots
5000rpm 55kmh, 29.70 knots
5500rpm 60kmh, 32.40 knots
5800rpm 67kmh, 36.17 knots (WOT trimmed)
Specifications: Whittley Sea Legend SL 20
Price as Tested: About $XXk with Volvo Penta V6-200 G engine, upgraded 7in Garmin MFD, cutting board and bait-prep station, on dual-axle braked Mackay trailer
Priced From: Base rig with V6-200 G engine with single SX prop on drive-on dual-axle trailer from $77,499
Length Overall: 6.20m
Beam: 2.40m
Deadrise: 23 degrees
Dry Weight BMT sterndrive: About 1950kg on road loaded
Fuel: 150lt
Water: Optional
Passenger capacity: 6
Sleeping: Two adults
Recommended/Max Horsepower: 200
Engine on test: Volvo Penta V6 200 G
Engine Type: Alloy block 4.3L V6 with high-pressure direct injection, freshwater closed-loop cooling, variable valve timing, power-assisted steering and more
Drive: Aquamatic sterndrive with SX single alloy prop
Supplied by:
Whittley Victoria Sales
101 Freight Drive, Somerton, Victoria, 3062
Phone: (03) 8339 1810
Email: sales@whittleyvictoriasales.com.au
Web: www.whittleyboats.com.au.
Review Details
Publication:

Boatsales.com.au

Writer:

David Lockwood

Article Link: