SL 20 OB Boatsales.com.au
There's a fair bit to like about the Whittley SL20 Outboard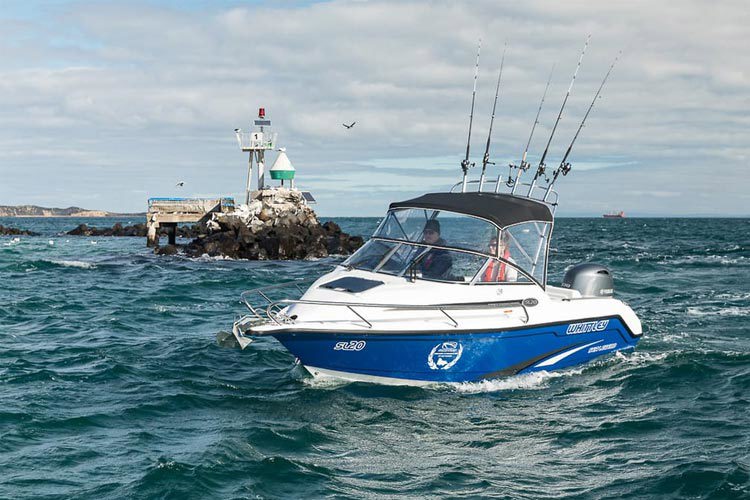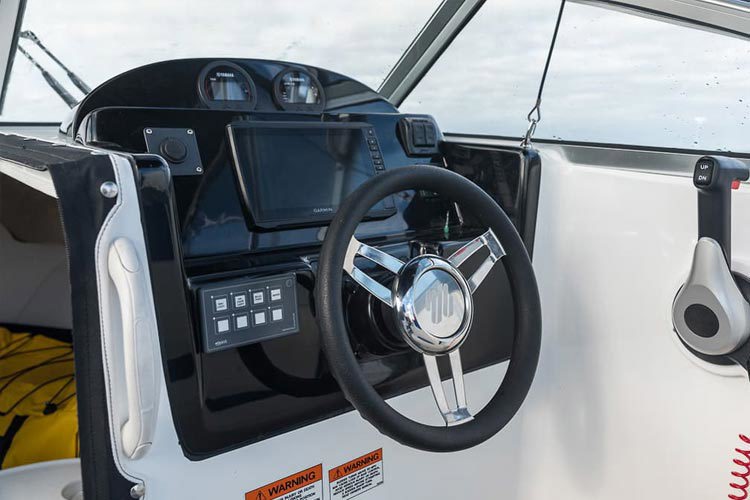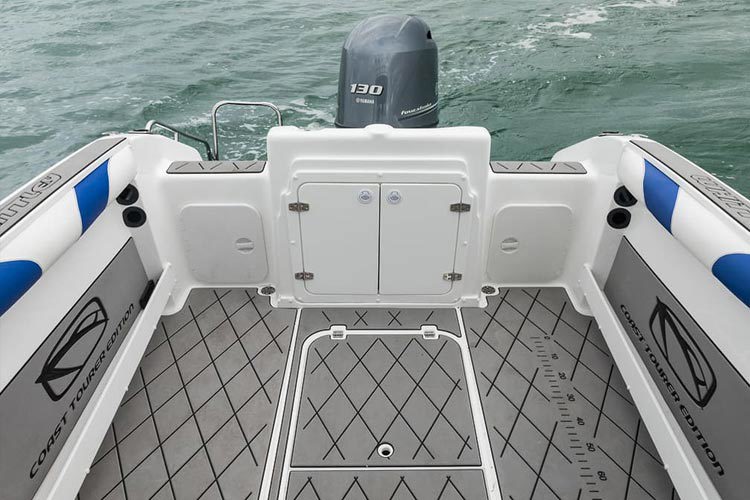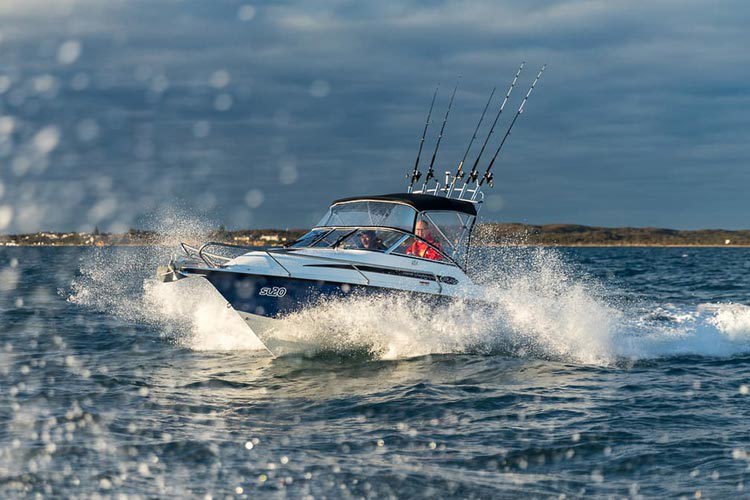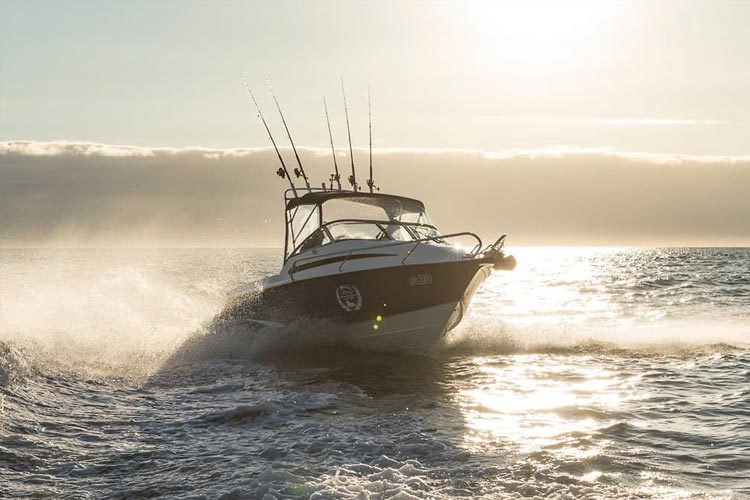 The Whittley SL20 Coast Tourer Edition is an outboard-engined trailer boat with a strong focus on value for money
The Rip at the entrance of Port Phillip Bay is no place for boats not built to handle it. Especially today, where current, wind and waves create a hot mess of some of the most challenging conditions I've seen.
Yet, there in the background, the new soft-topped Whittley SL20 OB Coast Tourer Edition is mixing it up with the big boys as we photograph the biggest boat in the hard-topped Sea Legend line-up crashing over waves, the SL25 Coast Tourer Edition.
After all, for the SL20 Coast Tourer Edition to earn its name, it will have to pass this test. But that is for another day.
Overview
The SL20 is the smallest model in Melbourne-based boat maker Whittley Marine Group's lineup of SL-badged fibreglass boats. It sells alongside a mix of other models with alluring names such as Fish Finder, XS, Cruiser and CW.
The "SL" in this instance stands for "Sea Legend", the name Whittley gives to its line of practical, affordable hybrid models that blend fishing chops with cruising lifestyle. This boat started life as an inboard model with a 200hp Volvo Penta V6 engine fitted to a sterndrive, but it has now evolved to offer outboard power – denoted by the "OB" – for the first time, and featuring a new fishing-friendly flat transom facing the cockpit.
There are pros and cons for both outboards and sterndrives; you can read about them here.
The Whittley SL20 is the smallest and most affordable model in the Sea Legend line-up.
The boat tested here is the Whittley SL20 Coast Tourer Edition, an enhanced model revealed at the 2019 Sanctuary Cove International Boat Show and fitted with a 130hp Yamaha outboard engine on test. Its fit-out includes a long list of extras on top of what was already a well-packaged, affordable Australian-made boat, adds the convenience of an optional hardtop that can protect the cabin from the weather and extend the number of times you get out on the water.
Price and equipment
As models built specifically to attract first-time boaters on a budget, the Whittley SL20 Coast Tourer Edition is keenly priced for the level of features that come standard on it.
Our test boat is little removed from the walk-up boat-motor-trailer package offered by Whittley Victoria Sales that's priced from $69,990 and sitting on a Mackay trailer, yet as you see it here the package price is only $76,290.
Standard gear runs to a two-tone hull gelcoat decorated in sports stickers; hydraulic steering linked to a fully lined cabin with LED light and chemical toilet; membrane switches that resist water ingress; full rubber flooring with a fish ruler built into it; an alloy rocket launcher with space for six rods; two removable cooler box seats; plastic-fronted side pockets with rod-friendly cut-outs; a four-rod CNC-milled plastic rod holder that hangs off the side pockets; four gunnel-mounted stainless steel rod holders with rubber covers; a plumbed live bait tank; a stainless steel boarding ladder with handrails; Bennett self-levelling trim tabs that tuck in under the transom; and the Yamaha F130 four-stroke outboard engine. You also get a mechanically braked Mackay dual-axle trailer with a spare wheel and tie-down straps.
The options fitted to our test boat include a Garmin Echomap 9 fishfinder and chartplotter; a passenger and driver's side windscreen wiper; Yamaha engine data to screen; dual batteries; trim tab upgrade; cabin divider; Whittley Fishing Team sticker package; front cabin table; safety gear; and 12 months boat and trailer registration in Victoria.
Hull and engineering
The design of the hull sitting under the Whittley SL20 Outboard Coast Tour Edition is a proven design. It features a 23-degree deep vee deadrise with a fine bow entry to help soften the ride, and subtle chines.
Whittley's boat-building process uses a fiberglass encapsulated stringer system for strength, noise reduction and longevity. Both the stringers and the cockpit are formed from one-piece moulds, adding strength and minimising rattles and hull noise.
If you're looking at the sterndrive version, you'll notice the transom on the outboard-engined Coast Tourer Edition is an unbroken flat surface, while on the inboard-engined version the transom bends into the cockpit to accommodate the V6 block.
Whittley wanted this boat to sit like a sterndrive while moving and at rest, so the 210-litre fuel tank is mounted well aft rather than amidships, in front of the transom, to keep weight towards the back of the boat, along with the battery.
Doing this, Whittley says, introduces the offshore stability of the low centre of gravity from a sterndrive-powered package. That, combined with the Whittley SL20 Coast Tourer Edition's deep vee hull, also has big benefits for stability at rest.
Design and layout
The Whittley SL20 Outboard Coast Tourer Edition is built with as much emphasis on comfort as it is practicality, whilst not moving away from the boat's deep-vee offshore credentials.
A large 900mm wide and 70mm deep companionway in front of the crew's pedestal-mounted helm seat opens into the cabin is so large that two people could squeeze past each other. The crew has a plastic handhold to brace in rougher conditions and an angled footrest.
It contains a lot of useable real estate for the money. The forward cabin is quite roomy for a boat stretching just 6.37 metres with a big bowsprit hanging off the front, with the 2.4-metre beam carried well forward to maximise interior volume.
The walls of the cabin are lined in soft-to-the-touch fabric lining, and the 1.8-metre V-berth includes infill cushions to turn it into a bunk. Beneath the front of the bunk, there's space for a family-friendly chemical toilet that's included as standard.
A composite table is available as an option.
A canvas cover fitted with press studs clips onto the edges of the companionway leading into the cabin and opens up via zips. Roll the cover up, clip in the retainers at the top, and it's a big, open entrance. Close it up, and it's a big, private space to either use the toilet or change clothes.
A tinted hatch provides light and airflow, but the anchor is best accessed via the walk-around cabin. Granted, foot space is tight and the side deck is not flat, but in calm conditions with the diamond non-skid surface, it's quite easy to go forward and unlock the anchor. A low stainless steel bow rail is the only handhold.
If you're regularly anchoring up, an electric winch should be high on the want list.
Helm and console
On the skipper's side of the Whittley SL20 Coast Tourer Edition, things look satisfyingly well equipped. The blacked-out twin level dash is now large enough to fit up to a 12-inch fishfinder/chartplotter combo, and a curved binnacle above it is well-suited to mount Yamaha's Engine Link instrumentation.
On our test boat, the switches for the self-levelling Bennet trim tabs are mounted high on the dash. The side-mounted throttle control, with its engine trim tab, falls easily to hand and includes Yamaha's engine cut-off safety lanyard.
Sitting at either the pedestal-mounted crew's or skipper's seat is quite comfortable. Whittley makes seats that are well-padded and hug the hips, making them ideal pews in rougher conditions. Standing at the helm with its plastic sports wheel is fine, with plenty of headroom below the canopy.
The only thing I found a bit awkward was the thick trailing edge of the five-piece wrap-around tempered glass windscreen. It was at completely the wrong height for me while sitting, making standing more practical; at 188cm I'm quite tall, so shorter skippers may have a completely different experience.
The clears used on the Whittley SL20 Outboard Coast Tourer Edition are made for visibility, with large sections providing excellent forward and side vision. In snotty Port Phillip Bay chop and busting into a gusting westerly kicking up heaps of spray, we experienced only two small leaks.
Cockpit and fishing space
If you're surprised by the size of the Whittley SL20 Outboard Coast Tourer Edition's cabin space, wait until you see the size of the cockpit.
The cockpit looks deceptively large, helped in part by jump seats built into a pair of 43-litre Dometic cooler boxes that poke out from spaces built into the console's seat bases.
It's a simple solution to a problem of how to add more seating without robbing the cockpit of space; the only compromise is an icebox lid that is cut in half to allow the top to still open without having to pull the icebox completely out.
You can also option a pair of flip-up seats that recess into the transom, with a drop-in seatback.
To either side, mounted in the coamings behind SOPAC-look hatches, is storage for tackle complete with pull-out boxes.
The cockpit topdecks have rubber surfaces and a pair of covered stainless steel rod holders (one mounted in the middle, and the other at the transom), and are wide enough to rest something on them in calmer conditions. This boat does not have a self-draining cockpit, but has 800mm of internal freeboard and a self-draining bilge with a stainless steel cover to stop fish scales clogging the drain, and an automatic bilge pump.
The centre of the transom is also 800mm deep, although to give easier access to the swim platforms to either side of the outboard the internal transom height drops to just 550mm. You can order infills to bring them up to 800mm – consider it if you're ever likely to show your stern to a big swell that threatens to break, but for fun in the bays it's not an issue.
The side pockets, decorated with "Coast Tourer Edition" decals, have 200mm of toe space below them, but the transom drops right down to the cockpit floor, making it difficult to brace yourself against it.
The side pockets stretch for 1100mm, and include cutouts to provide storage for rods without having to break them down.
The flat transom includes a pair of SOPAC-look hatches to either side, while mid-mounted double doors provide access to the battery. The doors are not waterproof, but the batteries sit higher than the floor. There's room if you want to install a second battery to support more electronics, and the battery isolator switch is high and off to one side.
The cockpit floor houses a large, forward underfloor kill tank. Its two barn-style doors flip up to reveal a metre-long space. Whittley says all new models come with a drain from the kill tank to the rear of the boat so that fish off-cuts drain outside rather than sit and smell in the bilge.
Access to the bilge is via either side of the battery locker; if the 45 litre-per-minute automatic bilge pump fires up you'll have to go looking rather than knowing in a glance. The bilge pump can also be switched on manually from the dash.
The cockpit space is almost square in shape and has enough space for three people to fish comfortably. Our test boat wasn't fitted with the optional cutting board that clips into the transom.
This particular boat was built to a strict show-circuit timeline, so was missing its live bait tank. Whittley says future builds of this boat include it as standard.
On the water
Launching out of Sorrento, conditions were far from ideal with a gusting 15-knot south-westerly making conditions trying on that side of the bay. Things would be a lot calmer on the Queenscliff side, so we pointed the Whittley SL20 OB Coast Tourer Edition into the wind and gritted our teeth.
As it turns out we didn't need to hang tough. The Whittley's deep-vee hull and fine bow entry made short work of the chop, allowing us to push on at a steady 20 knots with only the odd bang and shudder from the hull over tighter, bigger sets.
Despite the wind and waves throwing up sheets of spray over the bow, the clears held up well against the onslaught with only a couple of small leaks.
The Bennett trim tabs helped settle the boat, although trimming required a bit of guesswork as there are no physical indication of how the tabs are set. You can fix that by picking a trim tab indicator from the options list.
The Yamaha F130A fitted to our test boat had plenty of high-end performance with two people onboard and a full tank of fuel in the belly. The Whittley SL20 Outboard Coast Tourer Edition boat is rated up to 150hp, but unless you plan on needing extra performance for rough bar crossings, the 130 makes for a good all-rounder for having fun around the bays.
A nice touch is the Whittley's hydraulic steering, which feels a little heavy but moves briskly enough to throw the boat into a sharp turn.
Throw the Whittley SL20 Outboard Coast Tourer Edition into a tight turn and there's no creaking or groaning from the structure. Much of that is down to the boat's rigid build.
Performance
| | | | |
| --- | --- | --- | --- |
| REVS | SPEED | FUEL USE | RANGE |
| 700rpm | 3kt (5.6km/h) | 1.5L/h | 399nm |
| 1000rpm | 4kt (7.4km/h) | 2.3L/h | 347nm |
| 1500rpm | 5kt (9.3km/h) | 3.4L/h | 293nm |
| 2000rpm | 6kt (11.1km/h) | 4.9L/h | 244nm |
| 2500rpm | 7kt (13km/h) | 8.7L/h | 161nm |
| 3000rpm | 9kt (16.7km/h) | 11.7L/h | 153nm |
| 3500rpm | 15kt (27.8km/h) | 15.5L/h | 193nm |
| 4000rpm | 19kt (35.2km/h) | 18.5L/h | 205nm |
| 4500rpm | 23kt (42.6km/h) | 21.2L/h | 216nm |
| 5000rpm | 27kt (50km/h) | 34.4L/h | 157nm |
| 5500rpm | 30kt (55.6km/h) | 42.0L/h | 143nm |
| 5800rpm (WOT) | 31kt (57.4km/h) | 45.8L/h | 135nm |
Maximum cruising range based on 95% of 210L fuel tank: 216nm @ 4500rpm
Stability at rest is very good for a boat of this size, in part because of the deep vee but also because of the Whittley SL20 Coast Tourer Edition's low centre of gravity. An adult can walk to one corner of the transom and the boat will barely register the weight transfer.
Verdict
If you're jumping into boating for the first time or stepping up from a small tiller steer into your first boat that all the family can enjoy, there's a fair bit to like about the Whittley SL20 Outboard Coast Tour Edition.
It starts with a low price for what is a very well-specified, well-made 1750kg-odd boat package that will happily tow behind the average family SUV.
On the water, it's an easy to use, predictable and comfortable boat that bridges the gap between what the family wants and what the keen anglers need.
It has a surprising amount of space, too.
The Whittley SL20 Outboard Coast Tour Edition is a boat that can take the family on a day trip to an inland lake one weekend, and head to the nearest enclosed coastal waters for a day out fishing the next.
Specifications
Model: Whittley SL20 OB Coast Tourer Edition
Length: 6.2m
Beam: 2.4m
Deadrise: 23 degrees (transom)
Weight: 1700kg (dry, est)
Length on trailer: 7.5m
Height on trailer: 2.2m (to top of windscreen)
Power: 150hp (max)
Engine on test: Yamaha F130A, 17-inch prop
Fuel: 210L
Passengers: 5
Priced from: $XX,XXX including mechanically braked Mackay trailer; bimini with front and side clears; rocket launcher; rubber flooring; stainless steel boarding ladder; plumbed live bait tank with light; Bennet SLT trim tabs; two iceboxes; seat cushions including bunk infill; windscreen grab rail; toughed glass windscreen; front cabin lining; bow rails; anchor roller; anchor locker and hatch; Perspex cabin hatch; hydraulic steering; two-tone hull colour
Price as tested: $XX,XXX including dual windscreen wipers; Garmin EchoMap 9 chartplotter/fishfinder; Yamaha Command Link engine data gauges; dual batteries; trim tab upgrade; vinyl cabin divider; safety equipment and registration
Supplied by:Whittley Marine Group
Review Details
Publication:

Boatsales.com.au

Writer:

Barry Park

Article Link: