FF 1950 OB Boatsales.com.au
A well-priced family fibreglass cuddy cabin and coastal fishing rig built on a tried-and-tested hull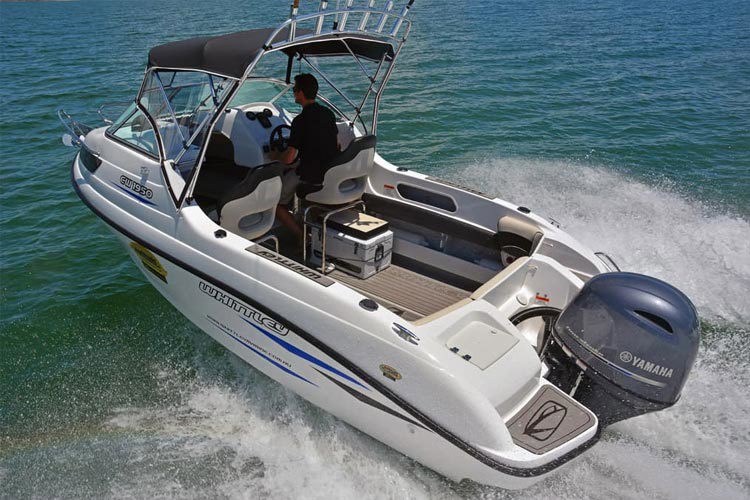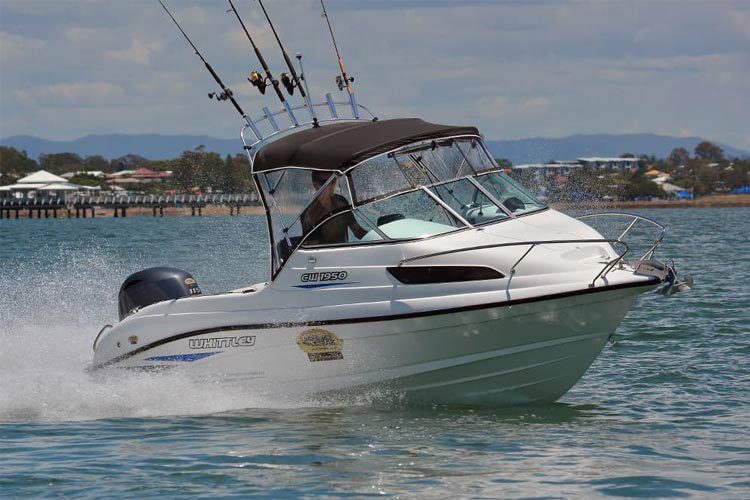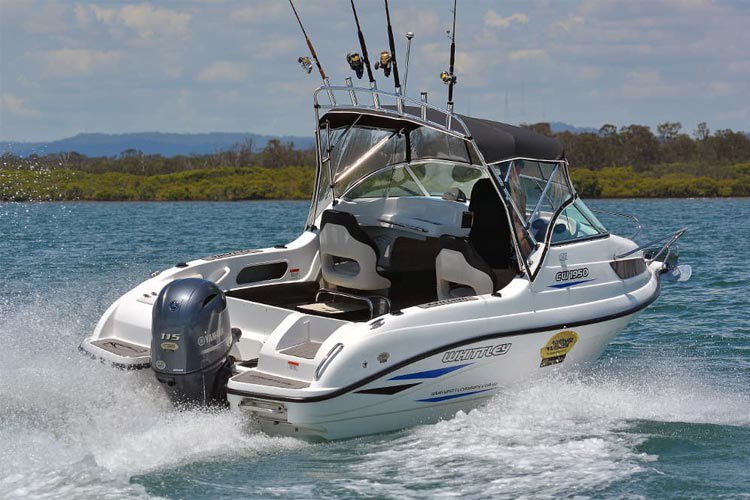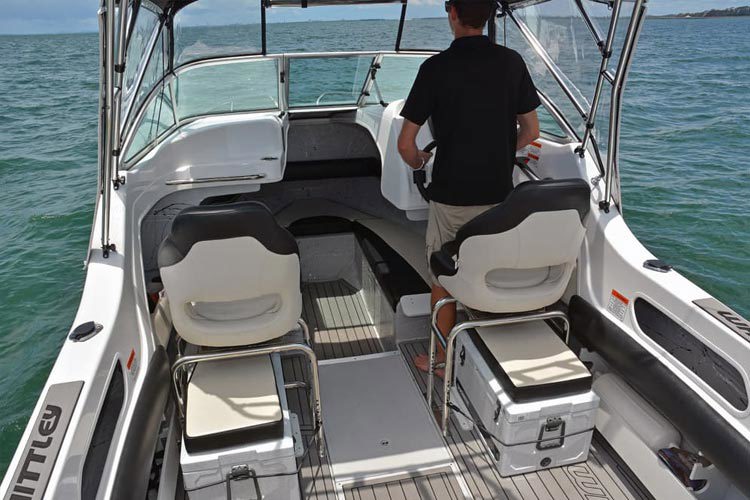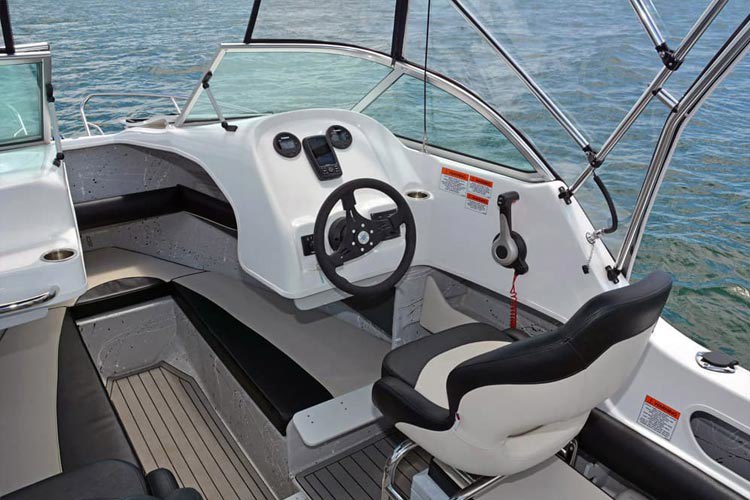 A well-priced family fibreglass cuddy cabin and coastal fishing rig built on a tried-and-tested hull
Whittley's Clearwater 1950 is a good-looking fibreglass cuddy cabin with a centre-opening windscreen and deck, combined with a proven hull and a large rear cockpit. Based on the classic 1991 Savage Mako 55SP, but with significant upgrades, the CW 1950 is an excellent choice for budget conscious families looking for an easily trailerable cuddy cabin all-rounder.
OVERVIEW
Melbourne's Whittley Cruisers expanded its line-up of fishing models earlier this year with the launch of the CW 1950. Boosting the CW or Clearwater range to three models, the CW 1950 is the middle-sized boat of the trio — slotting in between the entry CW 1650 and the big CW 2150 sports cabin cruiser.
While designated as a new release from Whittley, the CW 1950 is based on a classic trailerable fishing boat of yesteryear, the John Savage designed Savage Mako 55SP.
Originally launched in 1991 to considerable acclaim, the Mako went on to become one of Savage's biggest-selling cabin boats, arguably more popular than previous generation classics such as the Savage Pacific, Atlantic, Surveyor, Marlin, and Bluefin from the 1970s.
The Savage Mako drew awards from most boating magazines of the era and was a favourite among journalists, including this writer [and this Ed.].
I recall testing two different Savage Makos, a Volvo sterndrive-powered model shortly after it was released, then an outboard-powered boat a few years later. Both were excellent craft, although the outboard model proved the favourite going forward.
Enough of the history lesson.
While the Whittley CW 1950 is based on the Savage Mako, the new boat has been updated. The hull has been tweaked at the stern with new buoyancy pods to add lift and improve stability, while the deck has a modern dash and windscreen set-up, and revised rear transom layout.
The original Savage Mako performed best with a single outboard in the 115hp-140hp two-stroke power range. The new Clearwater 1950 is no different. Our test rig was packaged by Brisbane's Northside Marine with Yamaha's popular and smooth running F115XB four-stroke outboard.
PRICE AND EQUIPMENT
With package pricing from Northside Marine starting at less than $65k, the Whittley CW 1950 is surprisingly and pleasing well finished and appointed.
It is obvious the boats are built with pride and with attention to detail, too. Only quality materials, fixtures and fittings are used throughout the construction process to ensure the boats are strong, durable and relatively maintenance free.
As noted, the inventory of standard features is extensive and includes: deluxe helm chairs mounted on stainless steel frames with dual slide-out ice box seats underneath, a centre-opening windscreen and foredeck to provide access to the spacious forward anchor well, vinyl covered cabin berths, high-grip rubber floor matting (with fish measuring ruler cut into it), overhead bimini/rocket launcher, underfloor kill tank, transom live bait tank, four stainless steel rod holders, transom door, cockpit side pockets incorporating rod racks, underfloor foam flotation (to Basic Standard), and more.
Our test boat was pretty close to standard. The only options fitted (or needed) included a Garmin Echomap 4.5 fish finder/GPS, front and side clears, anchor, rope and chain, and an inshore safety gear pack for four people.
Both standard and optioned boat packages are powered by Yamaha's smooth and very popular 115hp extra-longshaft (25") four-stroke outboard, and ride on a Mackay tandem-axle drive-on galvanised steel trailer with mechanical disc brakes, fibreglass mudguards and spare wheel.
With boat and trailer registrations our test boat package is a veritable bargain at just $XX,XXXX from Brisbane's Northside Marine.
INTERIOR LAYOUT
The CW 1950 has an overall length of 6.12m, but this measurement includes the bowsprit and rear platforms, so it is not as big as the listed specifications would suggest. That said, the boat is roomy inside with ample seating, storage and move-about space.
The rear cockpit, for example, is bigger, more spacious than you might expect from this size of boat due to the use of a shortened transom and half-sized outboard well. To allow for the engine to be tilted up for trailering, and make space for the Yamaha's powerhead, a hinged flap/board folds forward and down from the top of the transom wall.
It's a clever, practical design feature that has been carried over from the original Savage Mako. Of course, some people may find using the hinged transom a bit inconvenient, but anglers will appreciate the increased cockpit space and the ability to stand at the transom and pass a fishing rod behind and well aft of the outboard engine.
Anglers and families will also be pleased with the full-height (680mm minimum) cockpit freeboard, the starboard side transom door, moderate-size port side live bait tank, and rear padded coaming and side panel bolsters.
The side coamings are relatively narrow at just 130mm wide, but they are wide enough to install additional rod holders over and above the four stainless steel units included with the standard kit.
Other features include a starboard side electrical master switch, exposed stern cleats (not recessed), rear boarding platforms, rails and ladder, and the battery mounted on a low platform under the port side transom corner.
The elevated cockpit side storage pockets incorporate a horizontal rod rack and stretch all the way forward to the super comfy helm chairs which are mounted on stainless steel frames.
As noted earlier, the boat comes with duel ice box/seats which can be strapped into place beneath the helm chairs, or moved aft against the transom to create a three quarter width padded bench seat. It is an excellent set-up as these ice box/seats can also be removed completely.
With regard to storage, the CW 1950 has the aforementioned rear cockpit side shelves, short storage bins under the gunwales, a big storage/fish box under the floor between the helm chairs, a port side shelf alongside the forward crew chair, cabin side pockets, and storage bins under each of the two long (1.93m) but narrow cabin side berths.
In the cabin, there is enough headroom to sit comfortably on each berth, though the overhead space does tighten up going forward toward the bow. This is kind of irrelevant, however, as the centre part of the deck or hatch opens out with the windscreen so you can stand and walk clean through the cabin to the anchor well and bowsprit. [ED: The cuddy walkthrough might be a tad tight for the girth challenged.]
Back at the helm, the skipper will find the steering wheel and side-mount throttle to be well positioned to drive the boat while seated or standing, and there is excellent visibility a full 360 degrees around the boat.
The dash and fascia has been re-designed to accept modern electronics and engine gauges so there is ample space for a large flush-fitted electronics display along with a marine radio, switch panel and engine instrumentation, etc.
ON THE WATER
The CW 1950 has a time-proven hull with a very fine forward entry shape and a moderate deadrise aft of 19 degrees.
The original Savage Mako was always a soft riding boat and this new CW 1950 version is no different. It is not a fast hull, so you don't need a whole lot of power, but it is very soft, very comfortable when running at cruise speeds into heavy wave chop and swell.
I remember the Savage Mako as being a bit tender at rest, but the addition of pod extensions to the rear of the hull and other tweaks have firmed up the hull for a bit more stability and stern lift.
The CW 1950 is also an easy handling boat, easy to drive, easy to manoeuvre. It turns with vigor and agility at speed, and hangs in well through tight turns with minimal cavitation.
The non-feedback mechanical steering fitted to the test rig was excellent, though we would still consider upgrading to hydraulic steering.
With regards to performance, the Yamaha F115XB is an excellent match to the boat. The test rig was not super fast, but it was strong through the mid range and quick enough for most boating and fishing applications with its top speed of 33 knots.
You might consider more power for regular heavy weather fishing, or for family outings with the whole tribe. But with just two or three people aboard 115hp should be ample.
The Yamaha 115hp four-stroke is a frugal engine too, so you won't break your budget using this economical package. At 3500 rpm, for example, the engine burns just 12.5 lt/hr for a boat speed of 16.4 knots and a maximum range on 95 per cent of the boat's 115lt fuel capacity of 143.35 nautical miles.
Whittley has done a great job with the CW 1950. The boat retains the excellent ride, handling and performance of the original Savage Mako, but with an updated new deck layout incorporating more seating, storage and convenience features to suit modern families and fishermen.
The new boat also has Whittley's personal touch, evident in the standard of the build, and the quality of the fixtures, fitting and materials.
And all this for what must be considered a budget price. $60k is great value for this versatile, wonderfully-appointed family fishing boat. - Jeff Webster words and photos.
RATINGS
Overall rating: 4.7/5.0
Mechanical/equipment: 4.8/5.0
Packaging and practicality: 4.7/5.0
On the water performance: 4.7/5.0
Value for money: 4.8/5.0
X-factor: 4.5/5.0
PERFORMANCE - SPEED
2.9kts (5.4km/h) @ 1000rpm
4.7kts (8.7km/h)@ 1500rpm
5.9kts (10.9km/h) @ 2000rpm
6.7kts (12.4km/h) @ 2500rpm
9.1kts (16.8km/h) @ 3000rpm
16.4kts (30.3km/h) @ 3500rpm
20.4kts (37.7km/h) @ 4000rpm
23.7kts (42.8km/h) @ 4500rpm
27.1kts (50.1km/h) @ 5000rpm
29.6kts (54.8km/h) @ 5500rpm
32.7kts (60.5km/h) @ 6000rpm
33.5kts (61.2km/h) @ 6100rpm (WOT)
PERFORMANCE – ECONOMY
1.6 l/ph @ 1000rpm
3.1 l/ph @ 1500rpm
5.1 l/ph @ 2000rpm
6.8 l/ph @ 2500rpm
10.2 l/ph @ 3000rpm
12.5 l/ph @ 3500rpm
15.6 l/ph @ 4000rpm
20.2 l/ph @ 4500rpm
25.0 l/ph @ 5000rpm
30.7 l/ph @ 5500rpm
37.8 l/ph @ 6000rpm
38.0 l/ph @ 6100rpm (WOT)
MAXIMUM RANGE ON 95 PER CENT OF 115LT FUEL TANK: 143.34nm @ 3500rpm
Specifications: Whittley CW 1950
Priced as tested: $XX,XXX including a Yamaha 115hp extra-longshaft (25") four-stroke outboard, non-feedback mechanical steering, Mackay tandem-axle galvanised steel drive-on trailer with mechanical brakes, Garmin Echomap 4.5 fish finder/GPS, front and side clears, anchor, rope and chain, inshore safety gear pack for four people, and 12 months boat and trailer registrations.
Priced from: $XX,XXX including a Yamaha 115hp extra-longshaft (25") four-stroke outboard, non-feedback mechanical steering, Mackay tandem axle galvanised steel drive-on trailer with mechanical brakes, and 12 months boat and trailer registrations.
Length overall: 6.17m
Beam: 2.20m
Hull weight: Approx 800kg (dry)
Towing weight: Approx 1,500kg (dry)
Length on trailer: 7.10m
Height on trailer: 2.45m (to windscreen)
Deadrise: 19 degrees
Maximum power: 150hp
Engine as tested: Yamaha 115hp four-stroke outboard
Fuel: 115 litres
Maximum Persons: Six
Review Details
Publication:

Boatsales.com.au

Writer:

Jeff Webster

Article Link: