CR 2380 SD Boatsales.com.au
Whittley is among the market leaders in fibreglass-trailerboat building.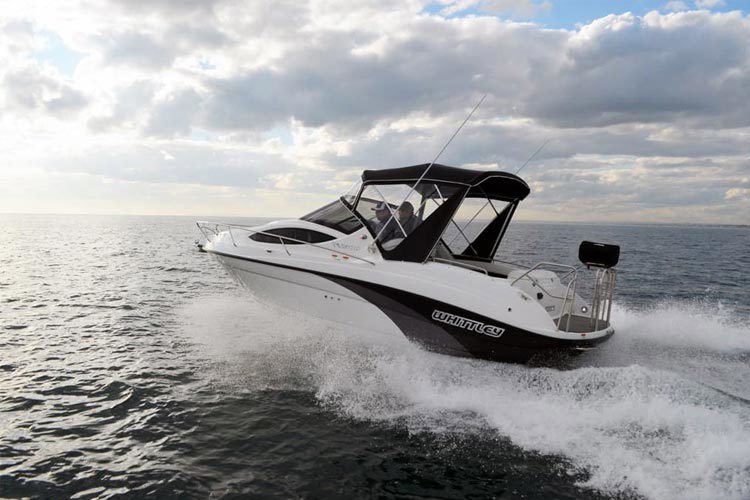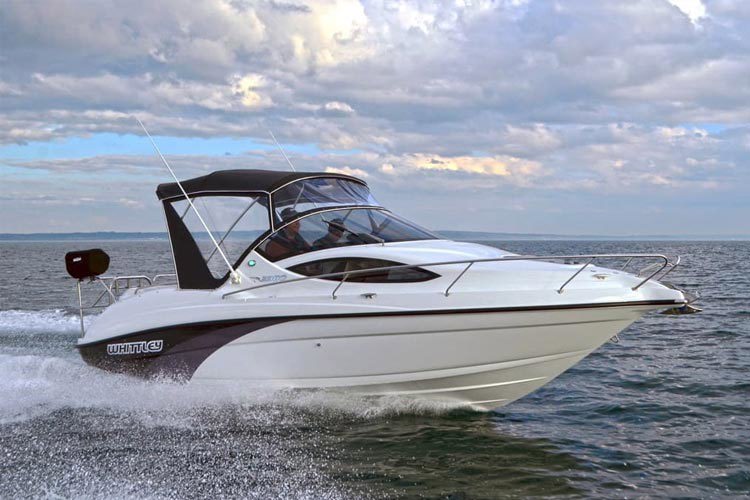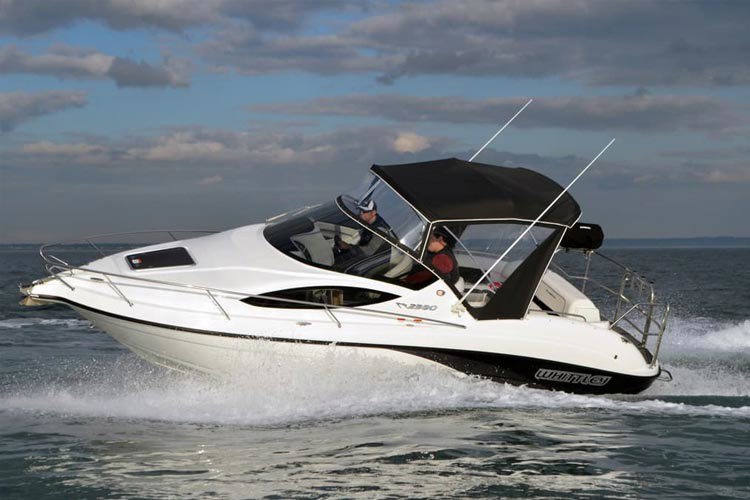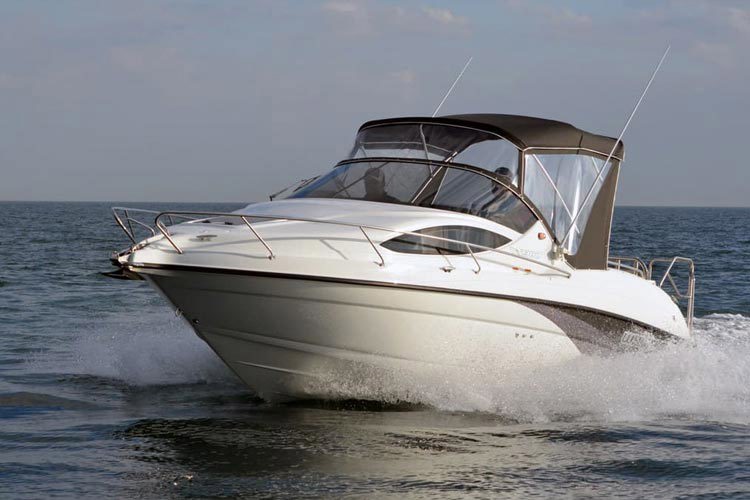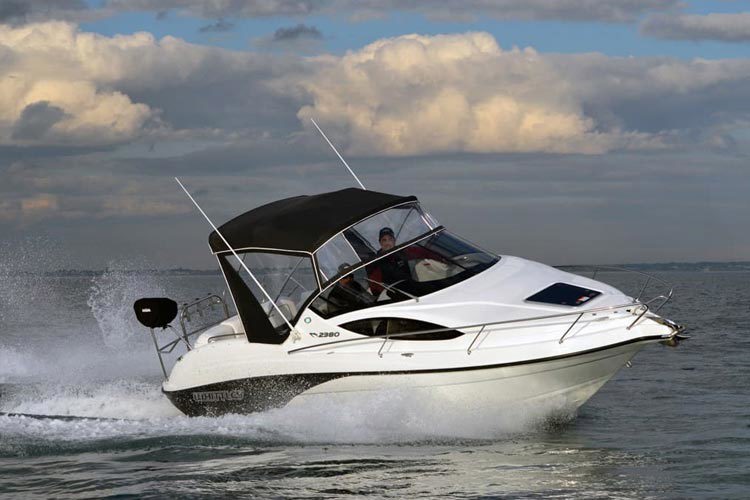 The "big small boat" in the Cruiser range
The CR 2380 slots smack bang in the middle of the Cruiser range and shows how clever design and integration can result in a big small boat. User- and tow-friendly, the mid-range Whittley includes plenty of comforts and standard kit for camping aboard, an especially spacious cabin, and a very good ride from a sharp hull with Volvo Penta sterndrive power.
OVERVIEW
- Now with a 200hp Volvo Penta V6 as standard
Like most boatbuilders, Whittley is big on keeping custom with its loyal band of footloose followers. There's pretty much a trailerboat for everyone, from keen offshore fishos to family cruising types, from those seeking a compact cruiser to the party faithful who aren't afraid to tow large.
We're told the owner of this mid-range CR 2380 Cruiser, which we tested one glorious afternoon on Port Phillip, was coming out of a Whittley Impala. The CR 2380 has a 6.0m hull length and measures 7.05m overall, compared with the old but popular 5.30m Impala. While the new boat is a big step-up in terms of space and cruisability, it's still easy to tow and launch.
Of the five Cruisers on offer, the CR 2380 is the one affectionately described by the Melbourne boatbuilder as its big small boat. It's the biggest boat in the range with a soft top, weighing in about 2500kg on road, yet it packs a pint in a pot glass in respect of accommodation.

The next step up, the substantially bigger CR2600 with hardtop, weighs 3000kg. There's also a big variation in the base price between the two boats of more than $25K. Yet the two boats share the same excellent 200hp Volvo Penta V6.
PRICE AND EQUIPMENT
- Driveaway
You have to admire the way Whittley bundles its boats. It's surely one of the sharpest in the trailerable packaging market. Using a long-serving and established national dealer network, including its own Melbourne retail outlet, the yard delivers complete and consistent rigs with most of the fit-up completed at factory level.
The CR 2380 is a great example of a well-appointed Whittley rig. The standard specs includes such things as: twin bilge pumps, bunk cushions and infills, carpets, rear folding seat and table, transom shower, sink and stove, Porta-Potti, 12V fridge, water gauge, full anchoring set-up, marine radio and CD player, boarding platform and lights, bimini top with clear covers, windscreen wiper and so on.
The base boat now with Volvo Penta's V6 200Gi, recommend with an upgraded Duoprop, sells on a Mackay galvanised tandem trailer with regos. Various engine options are available including a 225hp petrol Volvo Penta and D3 140-170hp diesels.
Save your brass and add some goodies instead, as you won't be disappointed with the standard 200hp V6 petrol. This is what our Melbourne owner did and, with some extra fruit, the CR 2380 we drove was ready for just about anywhere from the Whitsundays to, err, the Werribee.
The options fitted to the test boat include: Duoprop sterndrive, deluxe rear rails, removable marlin board carpet, dual battery system, three 12 volt outlets, hot water system, flyscreen mesh in camper back, rear-facing led spotlight on targa, front zips in clears, lockable sliding cabin door, bow boarding ladder, full privacy block-out panels for clears, rear bed option, electric anchor winch kit, deluxe rear bait board with stainless steel snapper rack (removed from boat for test), front hatch fly screen, LCD 22" display with DVD player and speakers, Fusion sound system upgrade with rear stereo remote on the transom and Raymarine Dragonfly Sounder/GPS.
LAYOUT AND ACCOMMODATION
- Set up as a serious family cruiser with fishing capability
The CR 2380 has curvaceous styling and a bubble-like cabin that maximises internal volume. The cockpit layout, mouldings and liners maximise seating and amenities. In this size boat, there isn't a huge amount of remaining flat floor for serious fishing, but if you want that then buy a Sea Legend.
The aforementioned deluxe rear rails mean the full-beam swim platform becomes safe waterfront real estate, while the addition of the rear bait board and snapper rack let you lob a line or three to catch dinner. It's a recreational fisher not a sportsfisher.
As regular boaters who witness a lot of Whittley Cruisers on the waterways, this is pretty much the script for most owners right there. Hangout on the transom, wet a line, cook a barbecue dinner, and kick back with a drink in hand. The addition of hot water via a heat exchanger on the test boat is another must-have option in our book.
The rear LED lights and full insect screens mean you can shoot the breeze after dark in the cockpit without being carried away by mozzies, while the optional rear cockpit bed provides additional al fresco sleeping for the kids. This way, the CR 2380 makes a nice boat for a family of four to weekend away.
Seating comprises a plush L-shaped cockpit lounge and table, shaded under the bimini top, and twin helm bucket seats that swivel. Certainly there is enough seating for the family.
The boat has a capacity of seven and we reckon there are seated positioned for at least six. There are side pockets and under-seat bases, plus a moulded navigator seat base, for the all-important storage in a small boat.
The moulded amenities centre just ahead of the navigator includes a stove, sink and fridge. There is also a portable esky for your grub/drinks. The aftermarket Magma charcoal barbecue will also see plenty of use.
Whittley's cabins are always a highlight and the CR 2380 didn't disappoint, with adult-length 2.10m bunks with plush foam cushions and first-rate upholstery. The infills are attached in the footwell and simply swing up and into place, using support legs to create a full queen bed.
The cabin is lined, of course, and our test boat had the optional LCD screen/DVD player. There was also the optional lock-up sliding door made from opaque Perspex that, with side windows and the cabin hatch, ensuring plenty of natural light inside.
Dry storage exists under the bunks and in side pockets, while fresh air comes courtesy of the requisite escape hatch. The carpeted footwell, headroom and padded side-pockets backrests add to the seated comfort and there are handy reading lights.
A Springfield Porta-Potti is recessed under an easily removable section of the starboard bunk cushion, just behind the dash where headroom is maximised, and it's more practical than the toilet usually found in the vee section in the front of half-cabin boats.
All told, it's a really nice cabin and a real highlight of the CR 2380, creating what amounts to one of the best sleeping arrangements on a trailerable 6.0m cruiser in the market. The sanctuary is also extended outdoors with the full campers and al fresco 'galley'.
HULL AND ENGINEERING
- Fair Whittley mouldings, terrific liners and sound sterndrive installation
Whittley is among the market leaders in fibreglass-trailerboat building. This CR 2380 had fair mouldings, really nice moulded liners and nicely moulded modules like that used for the amenities centre.
The stainless steel is a top grade; the upholstery, carpet and canopies are all fitted in-house; while Whittley has been working very closely with Volvo Penta to create engine and sterndrive fit-ups that are time-proven and approved.
We've written a fair bit about the new 200hp 4.3Gi V6 and Volvo Penta says owners can expect reliable starts, high performance and perfect speed control. Power steering and tuned intake manifolds provide added torque and improve acceleration, which might come in handy for towing tubes, if not maintaining a low-speed plane when rough-water cruising.
The Volvo Penta engine pairing also includes the rather excellent QL Neutra-Salt flushing system and Active Corrosion Protection. This is an automatic Volvo system using a combination of battery-charged platinum-coated titanium anodes and passive anodes.
Just as importantly, engine access is straightforward, with an insulated moulded engine-bay. You can reach the fuel pump and impeller very easily, while the moulded engine-bay liner lets you spot leaks.
Bilge access was a cinch too, but you'll have to crack the 'Sika' fixing to remove the moulded floor panel and access the decent 210-litre underfloor tank and its sender. The 100 litres of water will last a long weekend at least.
Evidently, the foam-filled hulls have stood the test of time and we don't hear anything to the contrary. Construction is hand-laid GRP backed by a fibreglass stringer system. There's a sharp entry that tapers to a pretty useful 20 degree of deadrise at the transom.
ON THE WATER
- A nice bay runner that doesn't bang
With the Duoprop upgrade and the bite those 'wheels' provide, plus the trim tabs and available negative sterndrive leg trim, you won't have any trouble popping the CR 2380 onto the plane.
The boat proved willing with our light load on a dramatic afternoon out from Patterson Lakes on Port Phillip, with perfect modelling light showing the CR 2380's best angles.
As touched on, the CR 2380 has a big cabin and the boat feels quite bulbous from the helm. But its hull defies its above-deck looks, being both willing and efficient, smooth and surprisingly dry during our test. Trim tabs come standard to optimise you trim and especially in cross winds.
The loaded dash is very neatly laid out and the sight lines are clear for cruising the bay. There helm includes some storage for personal effects and a drink holder, while the Quick windlass remote provides push-button anchoring easy for fishing and doing lunch aboard.
The bucket seats are supportive and swivel, with the navigator's seat offset and pushed back from the windscreen due to the moulded amenities centre. In rough water, you don't get the usual standing position behind the windscreen holding onto the rail. The CR 2380 is set up as more of a sit-and-drive cruiser.
The speeds we recorded with the 200hp V6 were what we'd consider on the money in respect to real boating use. Top revs produced 36 knots, 4000rpm gave a fast cruise of 27-28 knots, 3500rpm sees a snappy 24-25 knots, while 3000rpm returns an economical long-range cruise of 18-19 knots. You can easily hold plane down at 2600rpm for 12.5 knots.
Around 24 knots cruise will see you using about 30 litres per hour, give a safe range in this rig of about 150nm. That makes the CR 2380 a serious trailerable cruiser able to explore big rivers, last for days on lakes and bays, and head out to offshore island archipelagos for some big adventure.
VERDICT
- True Blue trailerable cruiser big on living space
The 200hp 4.3Gi V6 is an excellent sterndrive pairing on the CR 2380. The ride is smooth from the deep-vee 20-degree hull and about the best you can get with the kind of volume and amenities on offer.
With tabs and Duoprop grunt, you can compensate for crew weight loadings and the effects of cross winds, while the noise levels were inoffensive for family-based boating, with the kids on the aft lounge.
In short, the CR 2380 is an exemplary Whittley trailerable cruiser with a package price well under the CR 2600 with hardtop. Now standard with the same Volvo Penta's 200hp V6 petrol inboard, the CR 2380 is a terrific Whittley.
The CR 2380 pushes the design envelope in cruising campers without pushing you into nail-biting towing territory.
RATINGS
Overall rating: 4.30/5.0
Mechanical/equipment: 4.7/5.0
Packaging and practicality: 4.8/5.0
On the water Performance: 4.0/5.0
Value for money: 4.0/5.0
X-factor: 4.0/5.0
LIKES
>> Top-quality Australian-designed and -built trailerable cruiser
>> Excellent use of space and inbuilt amenities in a six-metre trailerboat
>> Big brand backing, great support and strong resale value
>> Excellent performance with 200hp Volvo Penta and Duoprop
Specifications:
Price as tested: Drive -away with Volvo 4.3 Gi-200, Mackay dual-axle braked trailer with spare wheel, safety equipment, regos, basic accessory kit and on-water handover. Options on this test boat included: Duoprop sterndrive, deluxe rear rails, removable marlin board carpet, dual battery system, three 12 volt outlets, hot water system, flyscreen mesh in camper back, rear-facing led spotlight on targa, front zips in clears, lockable sliding cabin door, bow boarding ladder, full privacy block-out panels for clears, rear bed option, electric anchor winch kit, deluxe rear bait board with stainless steel snapper rack (removed from boat for test), front hatch fly screen, LCD 22" display with DVD player and speakers, Fusion sound system upgrade with rear stereo remote on the transom and Raymarine Dragonfly Sounder/GPS.
Volvo 4.3 Gi-200, Mackay dual-axle braked trailer, pre-delivery, on-water handover, regos and safety gear.
Length Overall: 7.05m
Hull or Centreline Length: 6.00m
Beam: 2.44m
Deadrise: 20 degrees
Dry Weight BMT sterndrive: 2403kg dry base BMT
Fuel: 210 litres
Water: 100 litres
Passenger capacity: Seven
Sleeping: Four adults
Recommended/Max Horsepower: 200/225
Engine on test: Volvo Penta 4.3Gi-200
Engine Type: 4.3-litre V6 with multiport fuel injection and electronic throttle
Supplied by:
Whittley Victoria Sales
101 Freight Drive, Somerton, Victoria, 3062
Phone: (03) 8339 1810
Email: sales@whittleyvictoriasales.com.au
Web: www.whittleyboats.com.au
Review Details
Publication:

Boatsales.com.au

Writer:

David Lockwood

Article Link: