CR 2080 SD Boatsales
Australian-made half-cab Cruiser gets a repower and gains refinement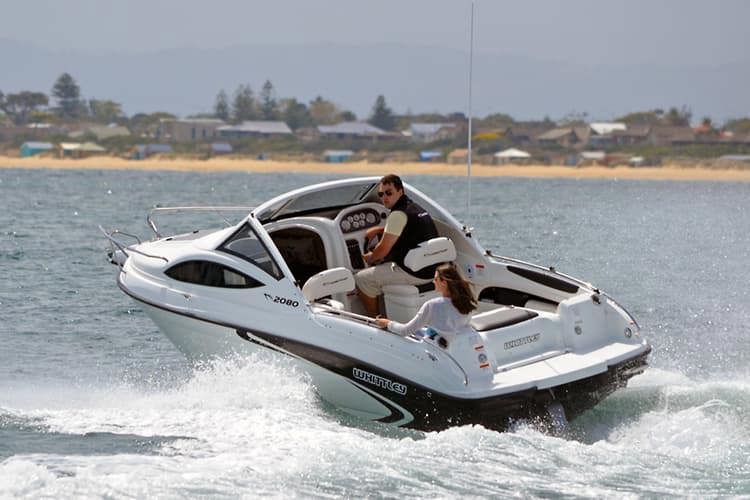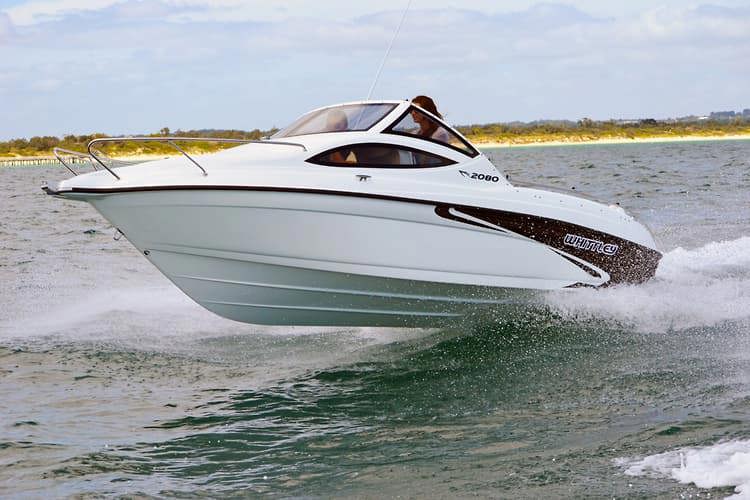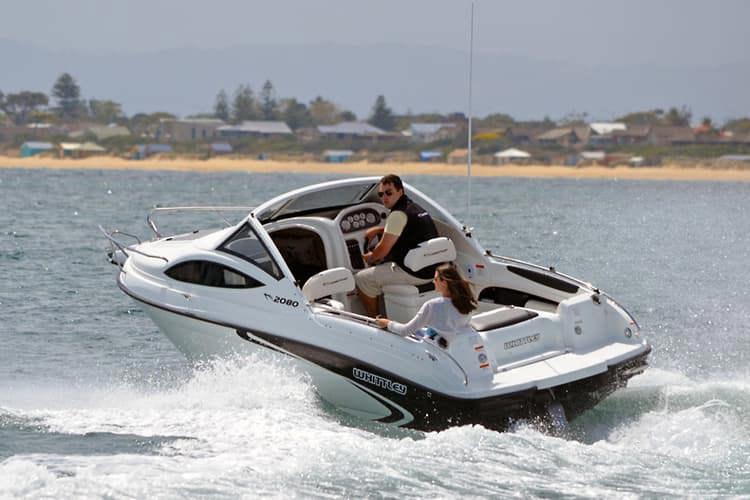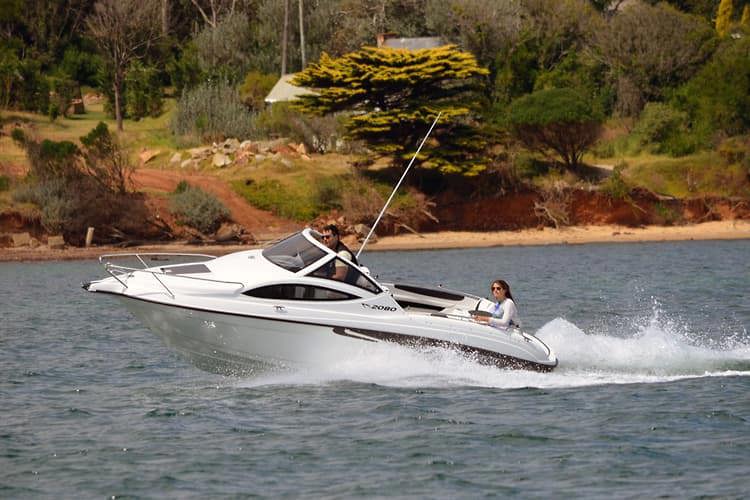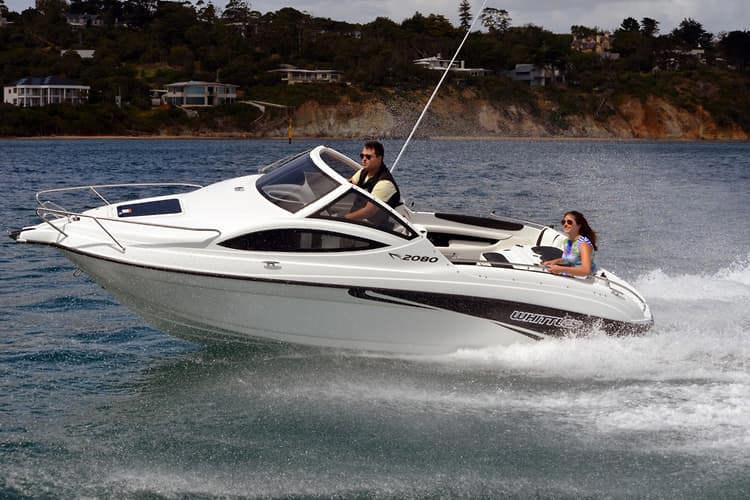 The smallest Whittley in the family-friendly Cruiser (CR) range manages to sleep two adults, pack a portable toilet and flip-down 'galley' aboard, within a spacious foam-filled hull that travels rather nicely. Only now, with a Volvo Penta 4.3L V6 200hp MPI petrol engine instead of the old 135hp MerCruiser, there's more get-up-and-go.
OVERVIEW
- A lot of "wave-piercing caravan" for the cash
Alan Whitley, the son of Managing Director Neville, is a third-generation family member enthusiastically carrying the baton for the iconic Melbourne boat builder. After tough times here and overseas, after previous costly expansion attempts in North America, Alan will tell you that Whittley has rebuilt, relaunched and is now rolling down the road to recovery.
At the usually thronging boat ramp at Patterson Lakes on the shores of Port Phillip Bay, as we prepare to launch three Whittley boats, Alan says 2013 was a big year. The Aussie marine company is back on the march, moving around 300 boats badged as Whittley, Sea Legend, Spy or Crestliners.
Whittley Victoria Sales (previously Marine Max), the relatively new Melbourne retailing arm owned by Whittley, has been set-up as a one-stop shop and furthers the group's vertical integration.
Of course, sterndrive (SD) boats have long been a big part of Whittley's design ethos and you can't argue with the terrific engine integration, low centre of gravity, and overall cost effectiveness. The sterndrive's appeal is being promoted through the close working relationship between Whittley and Volvo Penta (at the expense of MerCruiser).
The Volvo Penta 4.3Gi-200 -- Volvo Penta's entry-level petrol Aquamatic -- makes the old 3.0-litre 135hp four-cylinder MPI MerCruiser look a tad tardy. Released some three years ago as the "the most technically advanced 4.3-litre engine available today," the new 4.3Gi features multipoint fuel injection, electronic throttle control and an advanced engine-monitoring system among other things.
Yet despite the new power plant, the 2080 SD still flaunts the famous attributes that have made this Australian yard so popular for so many years. And we reckon Whittley is still the king of building "wave-piercing caravans," as Neville Whittley famously describes his boats.
Offered as a very complete drive-away package, the 2080 SD promises a lot of happy Whittley family trailer-boating in an affordable, easily-towed and comfortable on-water camper well suited to our kaleidoscope of coastal, inshore and inland waterways.
LAYOUT AND ACCOMMODATION
- Space that belies the boat's size
It's been said before, but Whittley's entry-level 2080 camper really does make the most of its internal space. The cabin seems bigger than expected with a 5.3m hull/centreline length and for a boat measuring 6.13m length overall including bowsprit and swim platform.
The high-aspect, full safety-glass windscreen, moulded fibreglass mullions (no sharp leading edges), and good freeboard add to the inherent weather protection, on-board safety and offshore seaworthiness. And on the trailer or running, this is a pretty boat, with rakish styling that's always been ahead of its time.
Then you find the comforts aboard -- the seating, inbuilt storage and amenities -- that make this boat user-friendly while not impinging on useable, valuable cockpit space. At the same time, wherever you look, the fit and finish is excellent.
All the stainless-steel deck gear is from the popular GM Marine supplier (we find it consistently first-rate), the mouldings are fair, and the upholstery is a step up in class to what other local yards offer these days. With in-house trimmers, you are assured things like canvas, clears and their supporting framework are a neat fit.
Fully vinyl lined, the full-width luxury cabin has good seated headroom thanks to a deep footwell, a wide vee-berth that with supplied infills turn into a 1.9m double for a couple, and there is side pocket storage/padded backrests and underseat dry storage as well. The lift-out Porta-Potti is under a starboard seat base and you can order an optional press-stud cabin privacy/security curtain if you like.
"This kind of boater has mum and dad in the cabin and the kids in the cockpit [under the full camper covers] sleeping on li-los. Do two or three days at Eildon then head off to resupply," Alan says. For interstate boaters, the 2080 SD would be right at home from the Gold Coast to the Moreton Bay, around the Hawkesbury and any number of inshore waterways from the Gippsland and SA Gulfs to the mighty Murray (where the Whittley club is heading this Easter).
Meanwhile, the wide cabin hatch, landing on a stopper, assists with anchoring duties, as does a moulded bowsprit with roller and decent anchor locker. Most Victorian buyers fit a drum-type anchor winch, which would assist with snapper fishing. Other times, the split bowrail will be welcome for disembarking at a beach and loading crew while nosing in to a jetty.
The boat's fully moulded cockpit liner with diamond-pattern non-skid is softened by clip in/out carpet. But it's the thoughtful deck and liner that make this boat. Storage exists for personal effects alongside the helm seats and in side cockpit side pockets, while a portable carry-on cooler fits under the co-pilot seat base.
The helm seat backrests swings to the side and their bases folds forward to reveal a mounting surface for one of those affordable butane stoves (with a billy or a saucepan with simmering homemade curry) and a food-prep cutting board on the co-pilot's side. There's a moulded sink linked to 40 litres of water under the skipper's seat base.
The excellent integrated side grab rails enhance stern crew seating. Our boat also had provision for optional removable mid-cockpit squwabs that slot into mounting grooves near the sidepockets. These might be useful when waiting for a bite. This 2080 SD is really quite fishy with lift-out quarter seat bases and snapper rod holder spreaders among the options.
The transom treatment didn't break new ground, but the lift-up table off the engine-bay cowling will come in handy for on-board lunches. Drink holders and LED lights were other highlights, while the swim ladder was appreciated when climbing aboard at the ramp. It the low integrated swim platform will assist tow sports.
The transom shower was enhanced with the optional hot water via a heat exchanger. And with optional extended transom platform, rear U bar, barbecue and cutting board you can accessorise the 2080 SD for that full Whittley camper look. Dual batteries were another welcome addition.
But for our money, all this paraphernalia is best left to the bigger Whittley models. As seen here, the 2080 is a really nice fish and family boat. Add the full set of covers when you want that just-add-water overnight camper.
HULL AND ENGINEERING
- Foam filled and Volvo powered
Volvo says we can expect reliable starts, high performance and perfect speed control from its 4.3Gi 200hp MPI engine. We can't argue with that from this test. Power steering and tuned intake manifolds provide added torque and improve acceleration, which might come in handy for towing tubes, if not maintaining a low-speed plane when rough-water cruising.
The Volvo Penta engine pairing also includes the rather excellent QL Neutra-Salt flushing system -- though this trailerboat will be kept out of the water and rid of salt anyway -- and there was an Active Corrosion Protection, an automatic Volvo system using a combination of battery-charged platinum-coated titanium anodes and passive anodes.
More importantly, engine access is straightforward, with fore and aft folding insulated moulded engine-bay lids. You can reach the fuel pump and impeller very easily, while the moulded engine-bay liner lets you spot leaks.
Bilge access was a cinch too, but you'll have to crack the 'Sika' fixing to remove the moulded floor panel and access the 100-litre underfloor tank and its sender. Not a biggie, mind you.
As for the foam-filled hull, it has stood the test of time. Construction is hand-laid GRP backed by a fibreglass stringer system. There's a nice rake on the forefoot and a sharp entry that tapers to a moderate 19 degree of deadrise aft.
Despite the cabin volume, the boat didn't bang and the stable sterndrive rig with 2.20m beam felt surefooted and smooth without too much porpoising. Dual strakes and down-turned chines helped deflect spray and provide low-speed lift.
ON THE WATER
- Great grunt and a very nice riding hull
As the Volvo Penta V6 weighs 40kg less than the 135hp 3.0-litre MerCruiser engine it supplants on this hull, and with a 10A bigger alternator, the new 2080 SD enjoys a better power-to-weight and powering match.
Yes, the V6 block is longer, wider and tall than the four-cylinder MerCruiser, but the red engine seemed to fit in the 'box' just fine, surrounded by a modicum of Mylar-lined foam sound insulation that helped ensure noise wasn't a problem.
The low-glare dash and windscreen wiper help with vision at the helm, though the moulded GRP mullions reduce the amount of glass and some viewing angles. The gauges an switches all fell to hand, with an optional flush mount compass off to the side.
All told, it was a nice set-up and a pleasant boat to drive from 'Patto,' out the river entrance, into a building 15-knot southwesterly, and down to Davey's Bay and the signature, scenic craggy cliffs near Frankston.
Spinning a single prop on its Aquamatic SX sterndrive, the 2080 SD offered a quiet and smooth ride when driven sensibly at around 3000rpm for mid-20 knots cruise. A nice level trim was achieved with a touch windward tab. And it was at this setting, with an occasional depowering to prevent falling in a trough, that we ranged comfortably to Frankston and pretty Davey's Bay.
Later, low-speed plane of 13.5-14.2 knots was noted at 2500-2700rpm, while fast cruise of 3200-3400rpm gave 24-26 knots for the run home. Volvo Penta don't supply petrol-engine fuel figures, but the experienced Simon Teitge from Aqua Power Marine, a Volvo Penta Service Center (yes, Yankee spelling), who was aboard reckons 30 litres at 3300rpm is a safe figure to quote.
That being the case, at fast cruise you'll get a modest 75-100nm range with this rig from the 120-litre tank (not 100 litre as specified we're told). Even at better than one nautical mile per litre, which might be possible, you are only going to get a safe range of 120nm at best. So this sterndrive Cruiser hasn't especially long legs. Bigger fuel tanks are available, says Alan Whittley.
At faster cruise at 4000rpm or thereabouts (we were getting some air) we recorded a sprightly 28-30 knots, while 4600rpm wide-open throttle on the flat saw my handheld GPS read 40.1 knots. Back at the best cruise revs, this was a nice comfortable family chariot for backyard and overnight boating. For ranging farther afield, a bigger tank would be nice.
VERDICT
- Unbeatable Australian-made family cruising package
Whittley's 2080 SD isn't exactly new. The bones for this boat were the yard's first CAD-design, the outboard-powered Voyager 550, released more than a decade ago. We returned for a test drive in 2007 when that boat was rejigged, with a new deck, repowered with a 135hp MerCruiser 3.0L petrol inboard/outboard, and renamed the 2080 SD. You can see how this latest CR 2080 SD iteration has evolved from those two boats.
But while the CR 2080 is Whittley's smallest Cruiser it's big on comforts with a layout that belies its size, especially without the canvas covers. We we're reminded upon coming aboard of the standard of finish for which Whittley is renowned. It is a joy being aboard the 2080 SD and the new Volvo Penta 200hp V6 adds to that.
Australian-designed and built, backed by an established dealer network, and with an active owners' club, the Whittley CR 2080 is a ticket to a whole lot of trailer-boating pleasure. Camp aboard, fish seriously and take a family of four away for a boating holiday. You don't need a big tow tug, either, with the wagon or SUV easily hauling the 1618kg (dry) or sub-1750kg on-road rig.
The package price is very keen and it's just great to see Whittley returning to its roots, focussing on the domestic market, and doing what it has done best for more than 50 years. The repowered 2080 SD is certainly a boat that underscores the merit and value of Australian trailerboat building.
RATINGS
Overall rating: 4.76/5.0
Mechanical/equipment: 4.7/5.0
Packaging and practicality: 4.8/5.0
On the water Performance: 4.8/5.0
Value for money: 4.8/5.0
X-factor: 4.7/5.0
LIKES
>> Top-quality Australian-designed and -built trailerable cruiser
>> Excellent use of space and inbuilt amenities in a six-metre trailerboat
>> Big brand backing, great support and strong resale value
>> Exceptional value with 200hp Volvo in place of 135hp MerCruiser
Specifications:
Equipment on board test boat: Volvo 4.3 Gi-200, optional hot water and dual batteries and compass, Mackay dual-axle braked trailer with spare wheel, safety equipment, regos, basic accessory kit and on-water handover.
Length Overall: 6.13m
Hull or Centreline Length: 5.30m
Beam: 2.20m
Deadrise: 19 degrees
Dry Weight BMT sterndrive: 1618kg
Fuel: 100 litres
Water: 43 litres
Passenger capacity: 6
Sleeping: 2 adults
Recommended/Max Horsepower: 200/200
Engine on test: Volvo Penta 4.3Gi-200
Engine Type: 4.3L V6 with multiport fuel injection and electronic throttle
Supplied by:
Whittley Victoria Sales
101 Freight Drive, Somerton, Victoria, 3062
Phone: (03) 8339 1810
Email: sales@whittleyvictoriasales.com.au
Web: www.whittleyboats.com.au
Review Details
Publication:

Boatsales.com.au

Writer:

David Lockwood

Article Link: