Whittley Wins Australia's Greatest Fishing Boat 2013
Wednesday 23 October 2013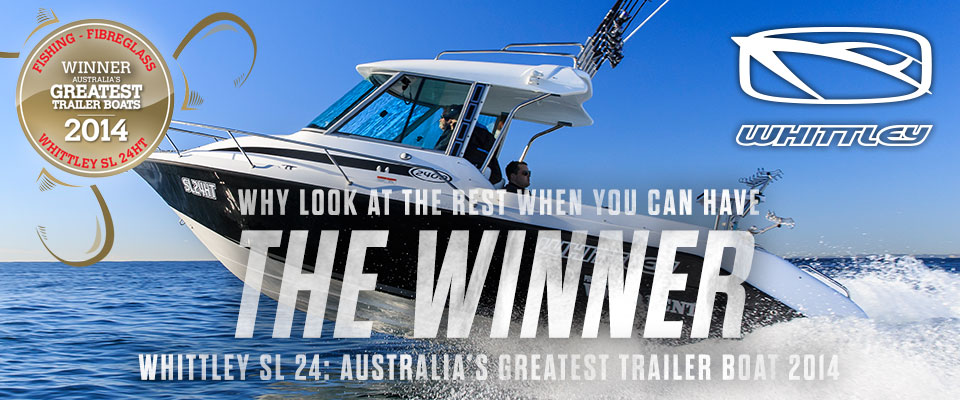 The Victorian based family boat builder Whittley Marine Group have taken out the title of Australia's Greatest Fishing Boat 2013 with the Group's Whittley SL 24HT.
Launched at the 2013 Melbourne Boat Show, the SL 24HT has quickly developed its reputation as an ideal family sports fisher/cruiser boat. The SL 24HT boasts unmatched features such as a full-length front bunk, plush cabin headliner and a porta potti in the front cabin. In the rear there's plenty of fishing space, a standard deck wash, live bait tank plumbed and 200L under floor removable kill tank. All complimented by a deep vee 23 degree dead rise blue water hull.
Neville Whittley, Managing Director of the Whittley Marine Group, had this to say about the win. "It's a real thrill to have a Whittley, powered by a Volva Penta stern drive, be judged the winner at such a prestigious boat competition. It's been a great opportunity to showcase our even longer list of standard inclusions as well as the advantages of the Sea Legend range, designed for serious comfort and serious fishing. To see our SL 24HT tick all the boxes and win the competition was an amazing result."
This years winning package was powered by Volvo Penta's D3 170 HP engine. The engine package comes with Volvo Penta's Duoprop drive, fresh water-cooling system and full EVC controls that include Power Trim Assist and Trip Computer, all encompassing this super lightweight diesel option as standard. These diesel features add uniqueness to the package and at $19,999 MRRP* for the upgrade, a diesel power option is now more affordable than ever before.
Mr. Whittley continued to comment, "We have seen an increase in sales and demand for our diesel powered fishing boats, which is why we chose a diesel motor for the competition. With advancements in Volva Penta's diesel stern drive range, fishermen can now obtain on average twice the range or burning half the fuel when compared with a petrol outboard. Our SL 24HT package burns only 33L p/h at top speed."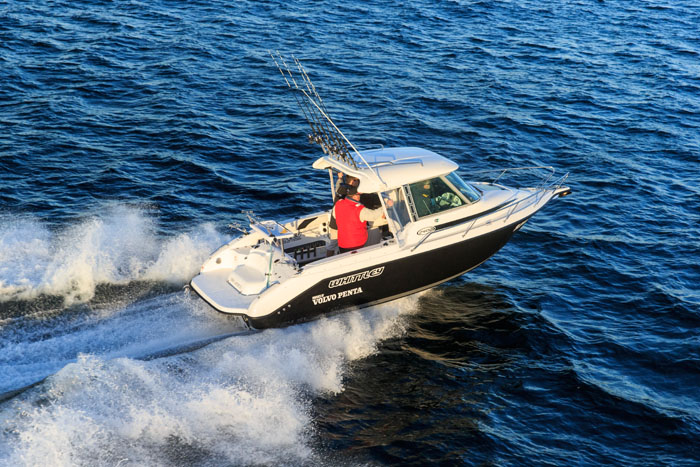 The Whittley SL 24HT package, powered by a 200 HP Volvo Penta V6 on a Mackay Trailer package, starts at only $ 95,499 MRRP* drive away and is available exclusively Australia wide through the Authorized Whittley Dealer Network.
"There are many benefits to stern drive power. A lower center of gravity ensures greater stability at rest and while underway. Volvo's option of a duoprop drive means better fuel economy, great hole shot and tighter tracking. Then there's the reduced noise everyone appreciates and the standard QL Nautra-Salt Flushing System completely removing the need to flush your engine, so you can have more time out on the water. Our design team has worked hard on our Sea Legend range, so fishermen can enjoy an even larger rear fishing area. It's a better ride, a better price and more boat for your money, this package truly represents great Whittley boating value," Mr. Whittley concluded
The Whittley Sea Legend range, is made up of five different models, starting at 6 meters with the SL 21 and going up to 9 meters in length, with the flagship SL 28HT. To rear the full article on the winning SL 24HT, a copy of the latest Trailer Boat Magazine is available from your local newsagent.
Whittley Marine Group is a Victorian based manufacturer of high quality Australian made boats and has been making memories for Australian families since 1953. The Group manufactures a full range of sports cruisers, fishing and performance boats. For more information on the range of Whittley boats, or to locate your local dealer, please call 03 8339 1800 or view the companies web-site online www.whittleymarinegroup.com.au
Trailer Boat Magazines 2013 Australia's Greatest Boats Competition Judges Remarks
"It's an awesome family boat." – Matt Jones
"Lots of low-down torque… perfect if you're heading offshore" – Angelo San Giorgio
"It's going to give you 30 kts using 33lt an hour at top speed" – John Willis
"A run to the shelf in this boat would be a pleasure." – John Ford
"This is a gentlemen's boat." – Kevin Smith
*MRRP. Manufacturers Recommended Retail Price. Includes; GST, Pre Delivery Charges, Basic Safety Equipment, Registrations. Excludes; Freight.
Back to News