Whittley Releases New SL 24 Hard Top
Monday 22 April 2013
Whittley Marine Group, Australia's leading fibreglass boat manufacturer is set to release the new Whittley SL 24 Hard Top, at this year's Melbourne Boat Show. Bringing a new model of high quality Australian designed sports fishing boats, to the already three model strong Sea Legend range.
The SL 24 HT, is a new model to the Whittley range, and with plenty of performance, style and sophistication, the SL 24 is set to be one of the most popular models to date and available with a standard hard top and full length windscreen glass.
National Sales & Marketing Manager, Alan Whittley said. " We are quite proud of producing a unique range of fibreglass fishing boats, that are not only appealing to the most serious of fishermen, while still feature the hallmarks of Whittley's cruising heritage.
"The new SL 24 HT, is a prime example of this uniqueness to the market. With its plush front cabin cushion with sleeping facilities, to the rear fishing cockpit, ideal for deep water fishing, extended stays out fishing or simply the all-round family fishing boat. "
"Those customers looking to see the new SL 24 HT, the new model will be released at this year's Melbourne Boat Show, and be located on the predominant Melbourne boat dealers stand, Marine Max and Whittley Marine at stand number E96."
Overview: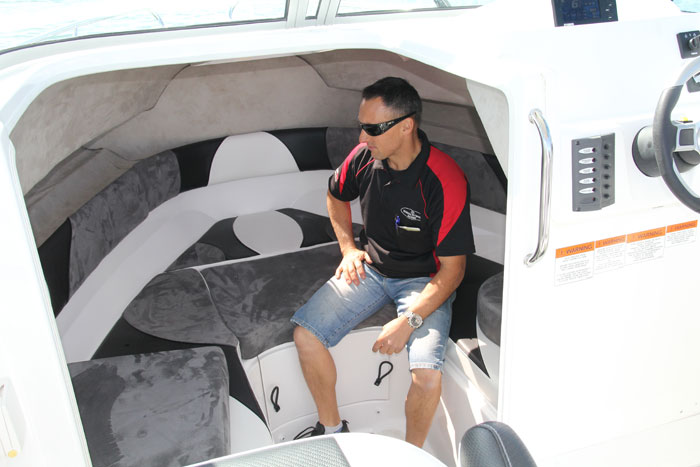 Whittley's focus on simple and smart design features, ensures the new Whittley SL 24 is a genuine recreational all-arounder able to cater to a wide range of activities.
Highlights include ergonomic seating that cushions and supports the body to eliminate the discomfort of ploughing through wind against a tide chop.
An intelligent full length windscreen with standard stainless steel grab rail for additional support while walking around the side and a fiberglass moulded hard top, protects passengers from wind chill and provides a solution for overhead rod storage.
The Whittley SL 24 HT is a sharp all-around package with a two tone colour hull, stylish two tone upholstery and classy design.
Cruising Heritage: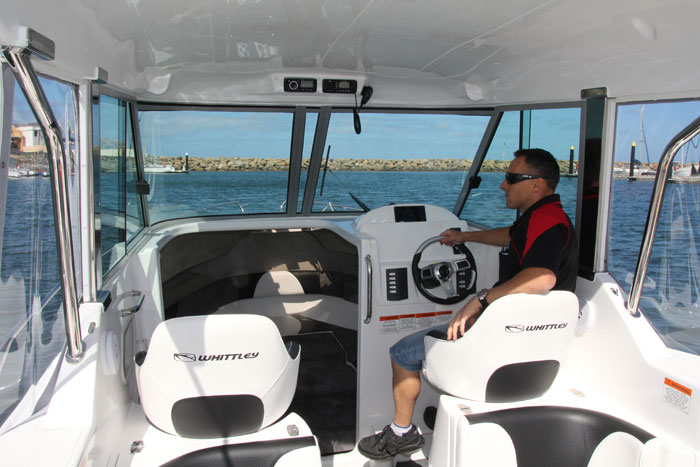 The Whittley SL 24 HT has a seamless cockpit design moulded in a way that is not too dissimilar to a large ice chest. Generous cockpit coverings and large moulded radiuses around the cockpit seats allows for easy cleaning because there are no awkward corners for bait, scales and other nasty things to cling on. Cleaning up is a simple matter of taking the pre-plumbed wash down hose from the transom locker and hosing out.
Deep moulded locker channels direct water to the bilge sump where it is pumped overboard.
Storage options abound on the SL 24 HT, but it is the under floor cockpit locker that adds the greatest value, with matching a large removable plastic cockpit locker bin designed around dive bottle dimensions. These keep the weight of the bottles, dive belts and other equipment down low, which aids stability both on the plan and at rest.
Additional cockpit storage space is provided under the transom, under the hinged bases of the rear facing passenger seats and within smaller accessory lockers moulded into the cockpit liners.
Popular cruising options, include, fly screens, 12 volt fridge/freezer unit, dinner kit and a hot water service.
Fishing Machine: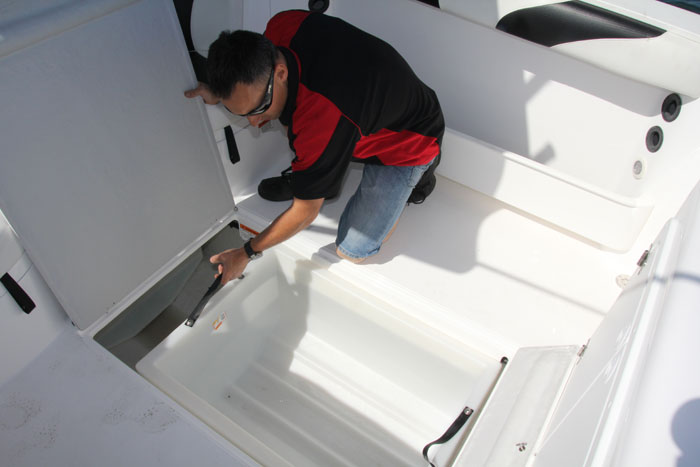 Mr. Whittley continued to say, "The internal volume of the SL 24 HT is what will attract buyer awareness to this new model as it is comparable to much larger craft and the SL 26. Both the SL 24 HT and SL 26 share the same external beam which is 2.45 M, which provides generous volume and design options while maintaining aesthetically pleasing overall dimension."
Whittley has further enhanced cockpit volume by eliminating internal mouldings. This has allowed Whittley designers to extend the cockpit floor the full width of the hull. Rod storage is still an option with recessed rod holders fore and aft, but there are better options elsewhere.
The SL 24 HT transom design is built around anglers needs with standard circular live bait tank and wash down facilities housed in moulded lockers on the stern drive or outboard configurations, complete with a self draining bait board option.
The clean up sink unit on the port aft side forms the mid height cockpit transom walk through for easy on/off access to the aft boarding platform and stainless steel boarding ladder.
Hard Top:
Ever wanted a boat that you could be assured of getting out and back again and keep the family dry? Thats the philosophy behind Whittley introducing the new SL 24 HT in a hard top configuration, as standard. Be protected from the harsh marine environment, with out compromising fishing space.
The standard hard top, also features sliding side windows, unique to this model. Also mounted up in the hard top, is the boats standard 27 Meg two way radio and Fusion sound system, head unit, for ease of access and added appeal.
Whittley have also added stylish rear spray deflecting clear side windows, for increased protection and added appeal.
"We wanted to create a hard top boat, that did not look like an idea after the model was released, like so many other hard top model boats out in the market place. That is why, we made a two piece fibreglass hard top, which has a seamless join. We are quite proud to present to the market, what we believe to be one of the best looking and finished sports fishing, hard top Australian made boats, on the market." Mr. Whittley continued.
Factory Fitted BMT Packages:
The design team at Whittley have worked hard to produce the SL 24 to be ideally matched to Yamaha's range of light weight outboards, as well as Volvo Penta's range of latest technology stern drives. In fact, in a stern drive configuration, you loose next to no room, with the outboard engine hatch loosing only the smallest of area's in the rear fishing area.
The Whittley Marine Group, package the motor and hull, on a high quality steel Mackay Trailer, custom designed to suit the SL 24 HT hull, this package ensures hassle free trailering.
"We are very proud to offer the industries leading Outboard and Stern Drive manufacturer Yamaha and Volvo Penta, along with Australia's boat trailer specialist Mackay Trailer, as a factory fitted package. When only the best will do for your new Whittley Boat. Quality can only be assured, by a factory fitted and manufacturers specified BMT catalyst package." Mr. Whittley continued.
Price:
Stern Drive Package: Featuring; 200 HP MPI V6 Volvo Penta Power, Mackay , Base SL 24 HT From MRRP $ 87,999*
Outboard Package: Featuring; F200 CETX Yamaha Power, Mackay Trailer, Base SL 24 HT From MRRP $ 99,999*
The new Whittley SL 24 is available exclusively through the authorised Australia wide Whittley dealer network. Whittley Marine Group, is a sixty year old, wholly owned family boat building business, located in Melbourne. The company produces a range of quality fibreglass boats, under the Spy Boats, Whittley and Clearwater FG brands as well as aluminium boats, under the Clearwater AL brand. For more information about any of the models in the Whittley range, please log onto www.whittleymarinegroup.com.au to find your closest dealer.
Key Features:
Mackay Trailer Moulded Fiberglass Hard Top
Full Length Glass With Sliding Side Windows
Toilet & Rear Shower
Ability To Be Either A Stern Drive Or Outboard Powered Package
Ergonimic
Built In Bow Sprit
Huge Seat Station, Under Seat Storage
Internal Cabin Lining
Under Floor Kill Tank Removable
Sports Split Bow Rails
Fiberglass Moulded Front Floor Cabin Liner
Rear Fiberglass Full Length Floor
Rear Travel Cover
Large Sports Dash
Specifications:
LOA 7.23M Beam 2.45M
Weight 2500 KG
Fuel Capacity 250 L
Disclaimer
* Price excludes, freight, safety equipment and registrations. MRRP: Manufacturers recommended retail price. Includes GST. Pictured boat, may include optional features, not included in your package. WMG, reserves the right to change the design with out notice.
Back to News