Whittley Marine Group factory fits new model Volvo Penta stern drive
Tuesday 15 January 2013
Victorian based boat manufacturer, Whittley Marine Group, today announced the introduction of the latest technology V6 200 HP Volvo Penta stern drive, across the CR 2080, CR 2180, CR 2380, SL 22 and SL 24 models, for 2013 build boats.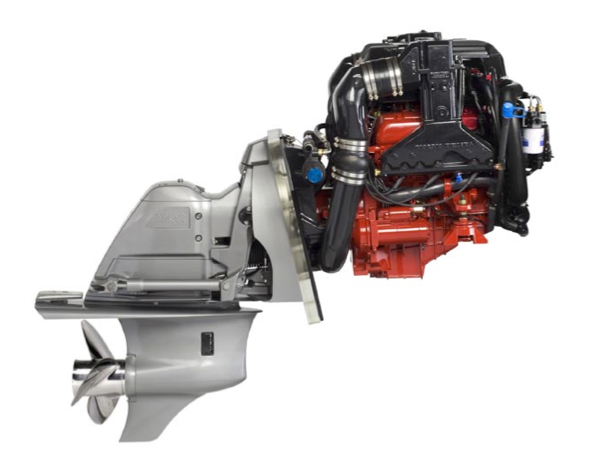 The new technology Volvo Penta V6 4.3 ltr 200 HP fuel injected engine, replaces the 3.0 ltr 4 cylinder 135 HP, which has been fitted to Whittley's range of smaller boats. The V6 200, is an advanced V6 gasoline engine designed to maximise power, reduce emissions and reduce fuel consumption. With a 4.3 ltr displacement and six cylinders, this new engine provides efficient power and fuel economy, combined with smooth operation and driving comfort. The computer controlled fuel management system produces maximum power, reduced emissions and ultimate reliablity, enhancing the entire boating experience. This modern engine is perfectly matched with the Volvo SX single prop drive and standard alloy prop.
Alan Whittley, Director of Sales & Marketing for the Group, said, "Whittley are very pleased to be the first and only OEM in Australia to factory fit the new 200 HP V6 fuel injected Volvo engine. It is of real comfort for Whittley to offer a more environmentally friendly stern drive power option, to replace the old 3.0 ltr engine. Whittley has been able to offer the V6 200 HP for the same price as the 4 Cylinder 135 HP engine, with the added benefit of a V6, fuel injection and an extra 75 horse power."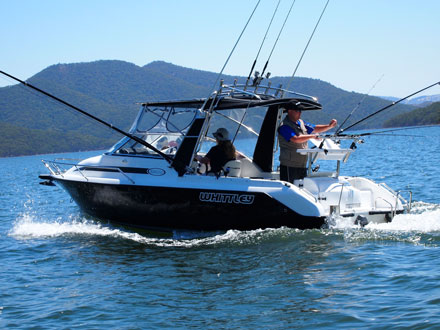 Mr. Whittley continued to say, "After feedback from our customers who owned the 3.0 ltr engines, it was quite clear that Whittley along with Volvo Penta, needed to offer the market a new technology entry level engine. For many years a low horse power engine was a boaters first experience with a stern drive. Times have changed, new boaters are now more knowledgeable than ever before and have higher expectations of their first stern drive experience. We believe that these expectations are only met by higher horse power, more technologically sophisticated engines and the most modern Australian boat designs. The answer was found with the standard fitment of the new 200 HP V6 in our Group's selected model ranges. The new engine, being 200 HP, has now opened up an affordable stern drive option, in the SL 22, SL 24 and CR 2380 models, as well, which perviously did not exist. All Volvo Penta's feature, multi port fuel injection, electronic throttle control and advanced engine monitoring systems. These new packages, are tailor built and designed to keep people in boating longer and in the Whittley brand."
Whittley Marine has released the following packages, available exclusively through the Whittley dealer network Australia wide;
Whittley SL 22 MRRP $ * 67,999
Whittley SL 24 MRRP $ * 88,999
Whittley CR 2080 MRRP $ * 49,999
Whittley CR 2180 MRRP $ * 62,599
Whittley CR 2380 MRRP $ * 79,999
Volvo's new V6 200 HP engine comes complete with an electronic fuel injection system, which communicates with the electronic control module for Volvo dealers to plug their computer into and diagnose any potential problems, which could not be done on the 3.0 ltr carbureted model. This speeds up the diagnostic process of isolating any trouble with the engines, enabling customers to be out on the water quicker, if there is an issue. For further piece of mind and reliability while out boating, Volvo offer as standard, a corrosion protection system, which monitors the corrosion levels and informs uses if there is an issue. Add this to Volvo's QL nautra salt flush option, and you have a package with even greater protection, for longer reliability out on the water.
Whittley Marine also coincided this announcement of the new 200 HP engine, with the release of a new one page flier, outlining the benefits of owning a Volvo Penta stern drive powered boat.
"Apart from not only price, our research and development team have shown that a stern drive powered boat is better performing out off the water, due to the centre of gravity being lower. This leads the boat to be more stable at rest, and have greater performance while traveling along in the ocean, in comparison to out board models. However do not let us be the judge, read the provided flier, and form your own opinion." Mr. Whittley continued to say.
Whittley Marine Group is Australia's premier boat manufacturer, and produces a wide range of fiberglass and pressed alloy boats, from the companies manufacturing, distribution and research and development facility in Melbourne Australia. Whittley Marine Group produce the Whittley, Clearwater AL, Clearwater FG and Spy Boats brands, which are sold through Australia's leading marine dealer network. The Group factory fit a full range of petrol powered Volvo Penta stern drives, from the entry level 200 HP V6, to the flagship 380 V8. For more information about the new Whittley range powered by Volvo, please contact the Whittley Factory on 03 8339 1800 or your local dealer;
NSW: Hunts Marine 02 9546 1324
VIC/TAS: Marine Max 03 8339 1810
VIC/TAS: JV Marine 03 9798 8883
QLD: Northside Marine 07 3265 8000
SA: Yamaha Pitmans Marine 08 8349 7599
WA: All Boat Business 08 9309 4200

* MRRP = Manufacturers recommended retail price. Price quoted is inc gst. Price quoted is ex dealer pre delivery charges, freight, safety equipment and registrations. Models displayed, may show optional extra's, which are not standard. Please contact your local dealer for more information.
Back to News