Whittley Cruisers Powered By Volvo Penta Diesel
Thursday 11 October 2012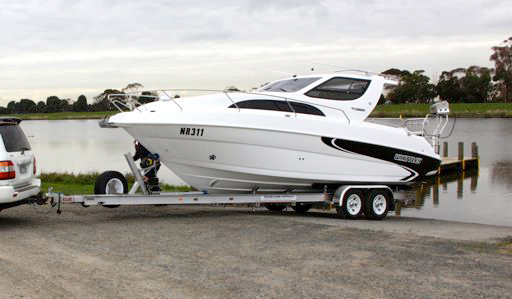 The Whittley Marine Group, in time for summer 2012, has announced the offering of the D3 220 HP and D4 260 HP Volvo Penta diesel power options in the companies flag ship, CR 2800 and CR 2600 model sports cruisers. The announcement ensures the latest technology, industry leading diesel power plants, are available to Australian boating families.
Traditionally diesel power plants in trailer boats, have been noisy, costly to purchase and old technology as well as being un-practical in this sized boat. Volvo and Whittley have changed this, by releasing two new model engines in Australia's largest legally trailerable cruiser boats, the Whittley CR 2800 & CR 2600. Volvo's new range of diesel power, are ideally suited to trailerable cruisers, and eliminate the traditional problems with diesel power in trailer boats.
Alan Whittley, National Sales & Marketing Manager said. " What do you expect, from a company who produced the worlds first stern drive leg, the first duo prop stern drive and the newest IPS drive. Volvo's diesel D3 and D4 power plants, come from this same pedigree of success and innovation and lead the industry once again. We are extremely pleased to have teamed with Volvo Penta for our petrol engines, many years ago, and be able to offer such innovative diesel power products, as an option in our boats, with the release of these new engines. "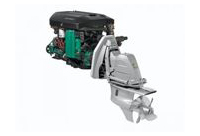 Drawing on the knowledge, dating back to the production of the first turbo charged diesel engine produced. Volvo's new D3 engine, offers variable turbo timing and electronic shift and throttle, this enables smoother, softer and safer driving. Add this to a vibration free experience, commonly associated with Diesel power in boats, through the vibration dampening engine mountings, which increases onboard comfort further still. The result of these new generation marine Diesels, is more power and torque for rapid acceleration up to planning speed and a higher top speed.
Volvo's D3 220 HP power option, is coupled up with the traditional Volvo Penta DPS drive, which is Whittley factory fitted on the petrol CR 2600 and CR 2800, models. With Volvo's new D4 260 HP power option, the drive is upgraded to Volvo's DPR drive, which has a complete hydraulic steering system, for additional ease of steering, when out on the water and at low speed, as well as bronze nickel propellers.
Volvo's D4 260 HP engine, is the most powerful engine in its 4 cylinder diesel class. Common rail direct injection and four-valve technology contribute to the 3.7 litre engines high performance. The engines compact overall dimensions, makes for easy fitment in the engine bay of the CR 2800 and good access around the power plant.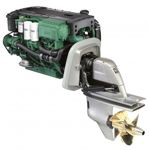 Mr. Whittley said. "Volvo's range of diesel power options are the ideal power option for either of these Whittley models. For many years, diesel power in a trailer boat, was too expensive, and the technology made the idea of diesel power, un-practical. Volvo with the release of the new generation D3 and D4 power plants, coupled with the Volvo duo prop drives, use the latest available engine technology, and have produced light weight, compact quite, smooth and comfortable stern drive diesel options, which are ideally matched to our larger trailer-able cruiser models. The D3 for example is up to 40% lighter than its competitors. Volvo have drawn on their 100 years of experience producing the worlds finest engines, and these new D3 and D4 engines demonstrate this."
As with all EVC Volvo Penta engines, factory fitted, as standard are a digital screen, trim computer and power trim assist system. This is just another example of Volvo offering the worlds finest stern drives, power plants and drive combinations and Whittleys commitment to offering these in the Groups boat brands.
Mr. Whittley continued to say. "Standard features on EVC engines, include Volvo's industry leading trip computer system, which enables customers to have accurate information, about the boats fuel consumption, distance till empty and many other critical indications of performance, all on Volvo's multi function display. Other standard features include power trim assist, which once programed by the dealer, offers assistance in the trimming of the boat, this reduces fuel consumption and increases performance. It is also a great feature for first time boat buyers. These are standard on all Diesel power-plants fitted to Whittley boats."
Whittley Marine Group, are Australia's leading manufacturer of trailerable boats, for three generations and nearly sixty years. Whittley Marine Group produce the Spy Boat range of performance boats, the Whittley range of cruiser and fishing boats and the affordable fiberglass and alloy ranges of Clearwater boats. For more information about the Whittley Cruiser range of Volvo diesel powered craft, please contact your local dealer.
NSW: Hunts Marine : jhunt@huntsmarine.com.au : 02 9546 1324
QLD: Northside Marine : gregn@northsidemarine.com.au : 07 3265 8000
VIC: JV Marine : gwalker@jvmarine.com.au : 03 9798 8883
SA: Pitmans Marine : dave@yamahapitmansmarine.com.au : 08 8349 7599
WA: All Boat Business : maz@allboatbusiness.com.au : 08 9309 4200
Videos
Back to News