Sizzler deals from Whittley at the Summer Boat Show.
Monday 27 January 2014
Prominent Victorian boat builder Whittley Marine Group releases new Summer Sizzler Sale, with great bonuses across the full Whittley range at this year's Melbourne Summer Boat Show.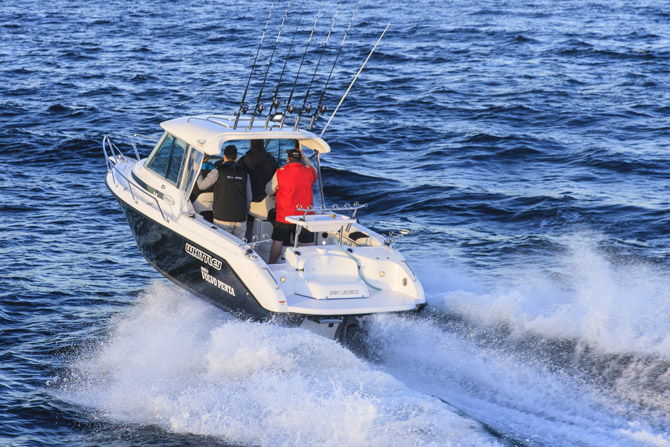 Director of Sales & Marketing at Whittley Marine Group, Alan Whittley said. " We are very excited to announce our Summer Sizzler Sale for new boat packages purchased at the show. If Victorian boat buyers are in the market for a new boat, our sale packages are too good to pass up. We have some fantastic offers and with the largest display of trailer boat at this year's Summer Show, your boating dream is even closer than you think with Whittley."
The six strong range of Whittley's Clearwater FG range of affordable fibreglass boating packages will feature these incredible bonuses, simply for buying at this years show;
Raymarine Dragonfly FF/GPS
Rear Bait Board
2 x 3 Way Rod Holders
Rear Carpet
Spare Wheel & White Wheels
S/S Burley Bucket & Muncher
S/S Upright Rod Holders
Mr. Whittley continued to say that "The Clearwater range offers a quality affordable boating package. With package starting from $29,999 drive away, and the incredible bonuses for buying at the show, the Clearwater range offers 'Clearly Better Boating'. Receive over $ 3,500 worth of bonuses across any model in the range, simply by purchasing a new Clearwater at the show."
The Whittley SL range of family oriented sports fishing boats, was awarded 'Australia's Greatest Fishing Boats 2014', and to mark the occasion any new SL purchased at the show, will receive a complimentary upgrade to a Volvo Penta duo prop drive, valued at over $1,999. Whittley's four strong SL model range offers a unique approach to family boating, being both a serious fishing boat but also a seriously comfortable and great family boat: a compromise rarely struck. Volvo's duo prop drive enables customers to enjoy a 10% saving in fuel economy, better top end speed, better performance and increased reversing ability.
"Fishermen demand Volvo Penta's duo prop drive on our packages, so as a special offer for the Summer Boat Show this is a fantastic bonus." Mr. Whittley said.
Rounding off the fantastic Summer Sizzler Sale, is a range of fantastic priced affordable family cruisers, from the Whittley CR range, which will also be on display.
Whittley Marine Group is Australia's premier boat manufacturer, and produces a wide range of fiberglass and pressed alloy boats, from the company's manufacturing, distribution and research and development facility in Melbourne Australia. Whittley Marine Group produce the Whittley, Clearwater AL, Clearwater FG and Spy Boats brands, which are sold through Australia's leading marine dealer network. For more information about the Whittley range, please contact Whittley Victoria Boat Sales on 03 8339 1810 or visit the show room at 99 Freight Drive, Somerton, Victoria, 3062.
Back to News