Home Town Boat Show Revs Up For Whittley In 2018
Wednesday 30 May 2018
PRESS RELEASE MAY 2018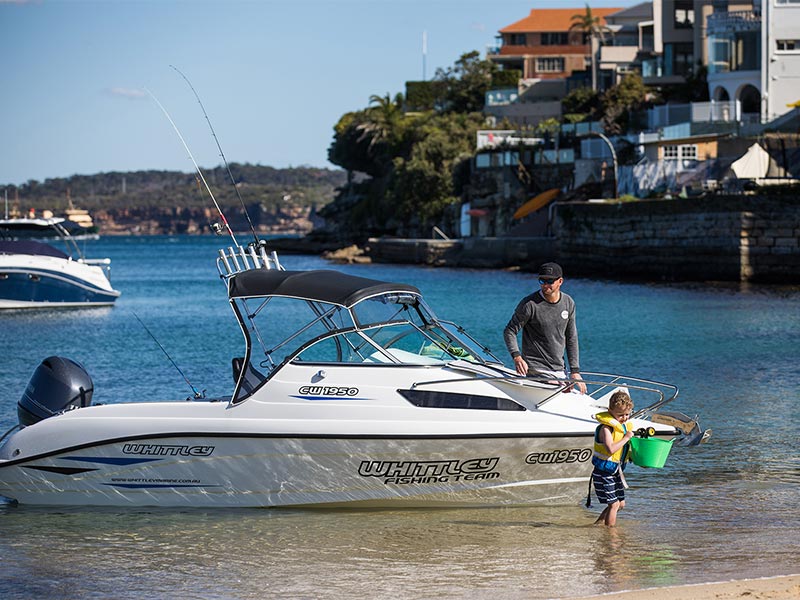 Victoria's largest fiberglass boat builder, Whittley Marine is set to expand its 2018 Melbourne Boat Show presence with more new Whittley Boats on display than ever before. Whittley will be showcasing the sharpest fiberglass boat packages at Victoria's premier boating event from the 28th June - 1st July.


Gary Honeychurch, VIC Sales Consultant, says "Whittley is back at this years Melbourne show in a big way, showcasing almost every model that we produce. We have the best prices on fiberglass boat packages in Victoria, with the largest range. I encourage all boat buyers to check out a Whittley, because our range offers something for nearly every fiberglass boat buyer's needs."


Whittley will display the most comprehensive trailerable fiberglass model ranges in the industry, across the companies five model series:
CRUISER (CR) - five strong model range of stern drive powered sports cruisers

SEA LEGEND (SL) – deep vee off shore performance fishing hulls, with luxury appointed cabins

CLEAR WATER – affordable outboard powered family fishing packages, starting at $39,990

EXCESS (XS) - lifestyle oriented water sports packages

FISH FINDER (FF) – hybrid fisher/cruiser designed to accommodate the family and angler


Yamaha will be powering the complete range of Whittley's outboard powered boats at this year's boat show. Whittley's stern drive powered boats are exclusively fitted with Volvo Penta, featuring an all alloy block and fresh water cooled engines.


All boat show packages will be sold exclusively with Garmin and Fusion electronics and matched with custom designed premium Mackay alloy and steel trailers. All boats feature Whittley's premium five year hull warranty.


"If you're looking for a premium brand name package, at an affordable price with a show deal and premium advice and service, come and speak to our dedicated team of passionate boaties. We won't be beaten on fiberglass packages in Victoria at this years show." Mr Honeychurch added.
Whittley will also have finance and insurance experts on the stand to discuss Stratton Finance and Club Marine Insurance options to help make your boating dreams a reality.


The advanced Whittley Pulse System will also be on display, allowing patrons to experience a hands-on understanding of the system and how the functions integrate into a new Whittley boat.


The Melbourne Whittley Cruiser Club (Whittley Owners Club), will also be on hand at the stand. The Whittley Cruiser Club offers the opportunity for Whittley trailer boat owners to visit great boating destinations throughout Victoria with the club.


Mr. Honeychurch continued to say "Trailer boating is fun, one weekend you can be touring the Gippsland Lakes and the next cruising along the River Murray. A Whittley provides a unique experience as you can simply hook on behind a suitable tow vehicle and tow anywhere anytime and your holiday starts from the moment you get in the car with your family. With our range of vessels you do not need overwidth signs, flags, flashing lights or restrictions like many imported boats. You are not stuck in a marina berth, you can get out and change the location of your private water front beach house every weekend."


Whittley is also offering a number of new initiatives for first time boat buyers who purchase at the show, on top of great sound advice. Working with key storage companies, both wet and dry storage, boat handling courses and service centers around the state to tick all new boat buyers boxes to ensure a proper introduction into boating for first time buyers.


"We appreciate that for a first time boat buyer, making the right choice is difficult, there any many things to overcome, but it can be mastered. Things like, where to store the boat, where do you obtain a boat operators license, what vehicle is needed to tow the boat, and also the fear of using it. We have some great experienced sales staff who can assist in this process, and offer great services like dry stack and a personalised on water hand over, to show new boat owners all the little tricks to successful boating." added Mr Honeychurch.


For all sales enquiries in Victoria & Melbourne, please contact 03 8339 1800, for sales enquiries on the Mornington Peninsula & South Eastern Suburbs please contact 03 9776 1662. To explore the exciting new range of Whittley fiberglass boats at this years Melbourne Boat Show, visit stand number D4, from the 28th of June through to the 1st of July at the Melbourne Convention Centre.


About Whittley Marine
Whittley Marine is a third-generation Australian boat-builder based in Melbourne. This family-owned and operated company has focused its resources on providing high-quality boats to boating families since 1953. A marine industry innovator, Whittley's award-winning range of family cruisers and fishing boats truly offer "A Boat for All Seasons" – versatile boating solutions that can be enjoyed all year round.

For further information or to arrange a personal factory tour, contact:
Alan Whittley, Director of Sales and Marketing, Whittley Marine Group,
+61 421 170 192 or via alan@whittley.com.au. For additional information about Whittley Marine's class leading range of fiberglass boats visit www.whittleymarinegroup.com.au.
Back to News