DON MORTON SA
Wednesday 5 June 2019
Press Release
March 2019
FOR IMMEDIATE RELEASE
WHITTLEY SECURES STRONG FUTURE IN SOUTH AUSTRALIA WITH APPOINTMENT OF DON MORTON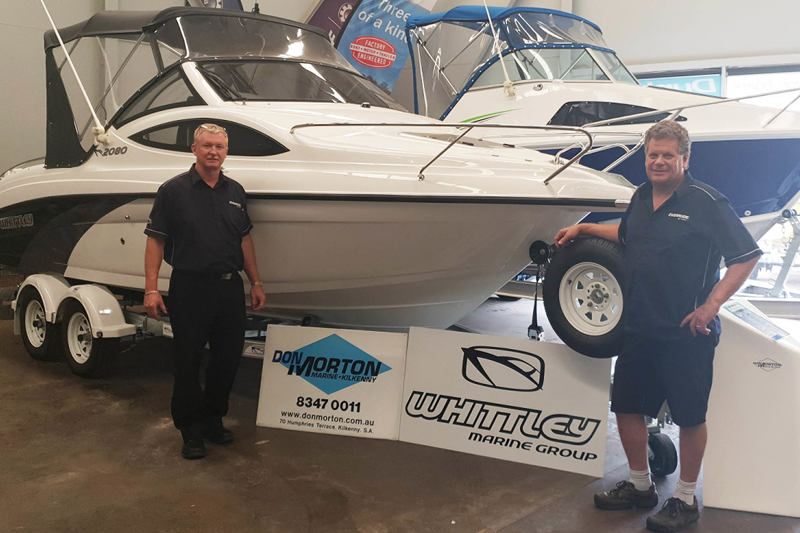 Whittley Marine, Australia's largest trailerable fiberglass boat builder, has secured a strong future in South Australia, with the announcement of Volvo Penta Centre, Don Morton Marine.
The new dealer has been appointed to represent the Whittley brand in the growing South Australian market. Don Morton Marine have been servicing the South Australian boating public since 1969 and are one of Adelaide's leading marine sales and service center.
Genevieve Whittley, Sales Assistant at Whittley Marine had this to say about the appointment. "South Australia has always been a strong market for the Whittley brand, with vast boating locations from cruising along the River Murray to offshore fishing on the York Peninsula. The Whittley brand is in a unique position to offer 5 different model series to cater to varying market segments and styles of boating."
South Australian customers can for the first time see on display in Adelaide the CR 2380 and CR 2080 models, from Whittley series of trailerable cruisers. The SL 25 HT and SL 20 OB,
Whittley's 23 degree off shore performance hulls, and the affordable CW 1650 and CW 1950 packages starting from $39,990, are available and on display at Don Morton Marine.
Combined with Whittley factory trained sales and service staff, Whittley is the only fiberglass brand that Don Morton stock and sell with high customer satisfaction throughout the new boat buying experience.
Ms. Whittley continued to say. "We encourage all potential customers looking at a new fiberglass boat package to visit Don Morton Marine and explore the exciting range of Whittley boats. The sales team at Don Morton can also discuss the many benefits of a Volvo Penta powered package for your next boat and the benefits of a legally trailerable boat."
Don Morton Marine, was established in Adelaide by boating fanatic Don Morton in 1963, and since that time has grown to become one of Adelaide's leading sales and service facilities for marine related products. In 2008 the company was purchased by current proprietor Tony Gibb, and is the South Australian Centre for the Volvo Penta product. Today Don Morton Marine boasts a modern sales and service facility in Kilkenny South Australia.
When asked about the appointment, Tony Gibb, Managing Director at Don Morton's had this to say. "We have chosen the Whittley brand because of its strong association with the Volvo Product and its ideal fit for South Australian boaties. Being locally made in Melbourne, the product is designed specifically for our unique boating needs and for Australian conditions. We are looking forward to putting our efforts into the Whittley brand and its expansion back into the South Australian market."
Don Morton Marine will be attending the 2019 Adelaide Boat Show, with the largest range of Whittley new boat packages in over a decade, with six new Whittley models on display at the Adelaide Showgrounds over the 28th to 30th of June. Alongside factory trained sales staff from Don Morton Marine, will be representatives from the Whittley family and factory to answer any questions new and existing customers may have about Whittley Boats.
Mr. Gibb concluded. "We look forward to showing the Whittley range of new fiberglass trailerable packages to potential South Australian customers at the Adelaide Boat Show. We encourage everyone to take advantage of the fantastic show deals which will be available and consider Whittley for your next boating package. With BMT packages starting from under $39,990 drive away, through to $350,000, Whittley has the right new boat package to meet your needs and budget. We are planning on introducing a Whittley Boat Owners Club for South Australian customers with more information to come upon launch."
For more information about Whittley Marine and the exciting range of Australian made fiberglass boating packages in South Australia please contact Tony Gibb at Don Morton Marine at 70 Humphries Terrace, Kilkenny, SA, 5009 to visit in store, or call 08 8347 0011 for a customized quote.
About Whittley Marine
Whittley Marine is a third-generation Australian boat-builder based in Melbourne. This family-owned and operated company has focused its resources on providing high-quality boats to boating families since 1953. A marine industry innovator, Whittley's award-winning range of family cruisers and fishing boats truly offer "A Boat for All Seasons" – versatile boating solutions that can be enjoyed all year round.
For further information or to arrange a personal factory tour, contact: Alan Whittley, Director of Sales and Marketing, Whittley Marine Group,+61 421 170 192 or via alan@whittley.com.au. For additional information about Whittley Marine's class leading range of fiberglass boats visitwww.whittleymarinegroup.com.au.
Back to News