CR 2180 & CR 2080 LIMITED JIM WHITTLEY EDITION RELEASED
Monday 11 June 2012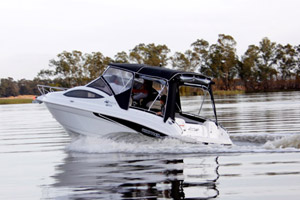 Whittley 2080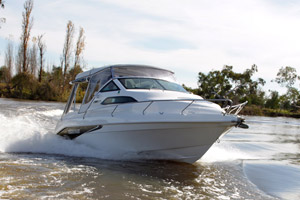 Whittley 2180
Australia's #1 Pocket Family Cruisers!
Whether fishing or cruising the new Limited Jim Whittley Edition, CR 2080 and CR 2180 will be sure to impress, those wanting to explore Australia's waterways. There has never been a better time, to look to invest in a new Australian made Whittley, then now with the introduction of the new Limited Jim Whittley Edition, representing all that is great about Australian boating.
Alan Whittley, Marketing Manager, Whittley Marine Group said. " The Jim Whittley Edition of the CR 2180 and CR 2080, offer no better introduction to family cruising. Fittingly named, after Australia's trailerable cruising pioneer, Jim Whittley, the CR 2180 and CR 2080, stay true to our companies heritage of Australian designed and built family cruisers."
Both CR 2180 and CR 2080 SD models are powered by a 200 HP, fuel injected Volvo Penta sterndrive engine, coupled with the SX drive and alloy propeller. The use of this engine in both models, ensure that water sports, fishing or cruising around, can be done with ease. Package this with a dual axle full drive on drive off, Australian made Mackay Trailer, ensures trailering, launch and retrieval of the CR 2180 and CR 2080's, has never been easier.
These models, are true overnighter and week-end live aboard cruisers that can be towed by a larger family car, or mid sized 4WD.
"For a young family or a couple seeking a new lifestyle, out overnighting on the water, these two models are ideal. All Cruiser CR 2080's and CR 2180's come standard with full camper cover, sink, shower and toilet. If cruising for days at a time with all the comforts of home appeals to you, then take a look at the range of Whittley Cruisers. These trailerable cruisers are carefully designed and finished to maximise creature comforts and smooth on-water performance. The CR 2180 and CR 2080's really are your home away from home." Mr. Whittley said.
Visit the Whittley Marine Group web-site, www.whittleymarinegroup.com.au or phone (03) 8339 1800, to learn more about the limited 'Jim Whittley Edition' CR 2080 and CR 2180's, and all the other models in the Whittley range. Whittley Boats, are manufactured in Victoria, and have been the market leaders for nearly 60 years and three generations. Australian made hand crafted family cruisers, designed and built by Australians for Australians.
Packages Include:
Mackay Dual Axle Trailer
Volvo Penta 200 HP Fuel Injected Engine, With SX Drive
2012 Model Whittley Cruiser 2180 or 2080 SD 'Jim Whittley Edition'
Pricing:
2180 SD BMT MRRP $ 62.599*
2080 SD BMT MRRP $ 49,999*
Key Features:
Plumbed Sink
Full Length Front Sleeping Bunks
Front Side Pockets
Toilet
Esky
Anchor, Rope and Chain
Camper Covers, Fully Enclosed
Rear Carpet
Fusion Head Unit
Stainless Steel Bow Rails
Front Stainless Steel Bow Rails
Glass Front & Side Windows (Inc Windscreen Wiper)
Front Hatch
Rear Seats & Rear Table
Full Walk Around Sides (2180 Only)
Popular Options:
Hot Water System $686 MRRP*
Extended Rear Marlin Board, With Rear S/S Ladder $2,970 MRRP*
Fusion DVD Screen, Front Speakers & Dedicated IPod Dock $1,890 MRRP*
Rear Fly Screen $213 MRRP*
Fly Screen Front Hatch $ 101 MRRP*
12-Volt Outlet On Dash $120 MRRP*
Available From Your Authorised Whittley Cruiser Dealer:
WA: All Boat Business: 08 9309 4200
SA: Yamaha Pitmans Marine: 08 8349 7599
VIC: JV Marine: 03 9798 8883
NSW: Hunts Marine 02 9546 1324
QLD: Northside Marine: 07 3265 8000
* Excludes; freight, safety equipment, registration and dealer delivery. MRRP; Manufacturer's Recommended Retail Price. Includes GST.
Back to News