CAVS MARINE NEW NORTHERN QUEENSLAND DEALER
Friday 18 January 2019
Press Release
January 2019
FOR IMMEDIATE RELEASE
WHITTLEY MARINE IS CELEBRATING THE APPOINTMENT OF CAVS MARINE AS ITS NEW NORTHERN QUEENSLAND DEALER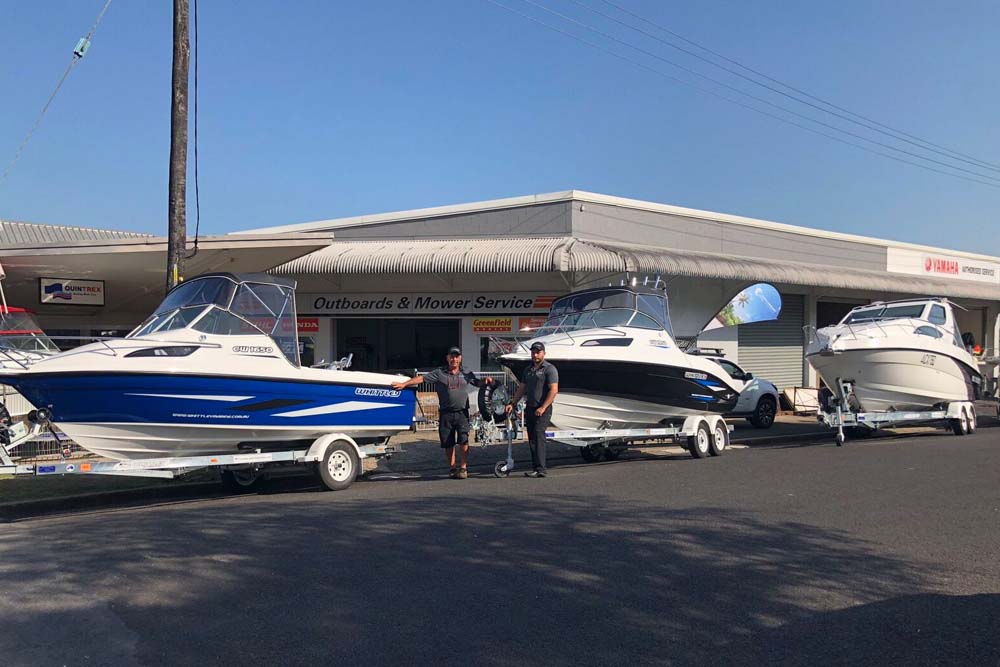 Leading Australian trailer boat builder, Whittley Marine, has expanded its dealer network and reach in Queensland with the announcement of new dealer; Cavs Marine, to accommodate the growing North Queensland boating community. The appointment builds on the company's long-term dealership in Queensland's South East, Northside Marine.
Cavs Marine is located in Tully and their appointment completes the Whittley Queensland dealer network. Cavs Marine are authorized dealers for Whittley's key outboard partner, Yamaha, and have recently been appointed a Volvo Penta stern drive and Mackay Trailer dealer.
Neville Whittley, Whittley Marine Managing Director, had this to say about the exciting news. "We chose the Cavallero family because of their passion, professionalism and business model. They are a family business working hard to service the needs of their boating customers. The business, fam ily and dealership are the ideal fit for the Whittley brand; servicing our customers in Northern Queensland, a key area of growth for both companies as we expand together."
Whittley Marine is a Victorian boat builder, employing some 60 Australian workers designing and building its boats right here in Australia for the unique Australian consumer. The company has produced over 20,000 boats since it was founded back in 1953, with many owners enjoying the unique Whittley boating lifestyle right around the country.
"The Whittley Brand has experienced significant growth in the last 12 months as we secure up our philosophy of offering one of the strongest ranges of locally made trailer boats across the brand's five different series of boats. We are in a strong position to offer to our customers and dealers, competitive fiberglass boat packages across the popular fishing, cross-over, water sports and cruising market segments with 16 different models." Mr. Whittley said.
2018 has been a strong year for the Whittley brand and its dealer network with the year finishing positively with the appointment of new dealer Cavs Marine, building on one of the strongest and long-term dealer networks for any fiberglass brand in the country. A strong dealer network ensures customers are well supported across the country and key boat building and manufacturing skills remain here in Victoria.
Mr. Whittley continued to say that. "This new partnership will allow potential Northern Queensland customers to see more new Whittley Boats. It will also offer higher levels of after sales support with Whittley factory trained technicians in more locations to support customers post purchase. The Whittley brand already has a strong reputation and following in Northern Queensland and we look forward to continuing to build on this as we welcome new owners to the Whittley family, through Cav's Marine."
Cavs Marine currently have on display and in stock two trailerable cruiser models, the CR 2080 OB and Fleetmaster 26, two SL off shore sports fishing boat models, the SL 20 OB and SL 25 HT OB and finally two affordable fishing boat models from the CW series, CW 1650 and CW 1950. Cav Marine offer one of the largest displays of new fiberglass boat packages in northern Queensland. Cavs Marine have been in operation in Tully for over 40 years and have built a strong reputation of excellence in service and customer satisfaction.
Mathew Cavallaro, Managing Director of Cav's Marine had this to say about his appointment as a new Whittley dealer. "We are extremely excited to be Whittley's first dealer in Northern Queensland. Having spent many months reviewing the fiberglass trailer boat market, we feel Whittley was the right fit for our market and dealership. We are extremely excited about Whittley's future here and the new models set to be announced from the company into the coming months. We look forward to a lasting association with the Whittley brand and its customers, and welcoming new customers to our dealership and the extended Whittley family."
For more information about Whittley Marine and the exciting range of Australian made fiberglass boating packages, in Northern Queensland please contact Mathew Cavallero at Cavs Marine at 12 Watkins Street, Tully to visit in store or call 07 4068 2222 for a customized quote.
About Whittley Marine
Whittley Marine is a third-generation Australian boat-builder based in Melbourne. This family-owned and operated company has focused its resources on providing high-quality boats to boating families since 1953. A marine industry innovator, Whittley's award-winning range of family cruisers and fishing boats truly offer "A Boat for All Seasons" – versatile boating solutions that can be enjoyed all year round.
For further information or to arrange a personal factory tour, contact: Alan Whittley, Director of Sales and Marketing, Whittley Marine Group, +61 421 170 192 or via alan@whittley.com.au. For additional information about Whittley Marine's class leading range of fiberglass boats visit www.whittleymarinegroup.com.au.
Back to News