65 Year Limited Edition Cruiser Packages
Wednesday 30 May 2018
PRESS RELEASE MAY 2018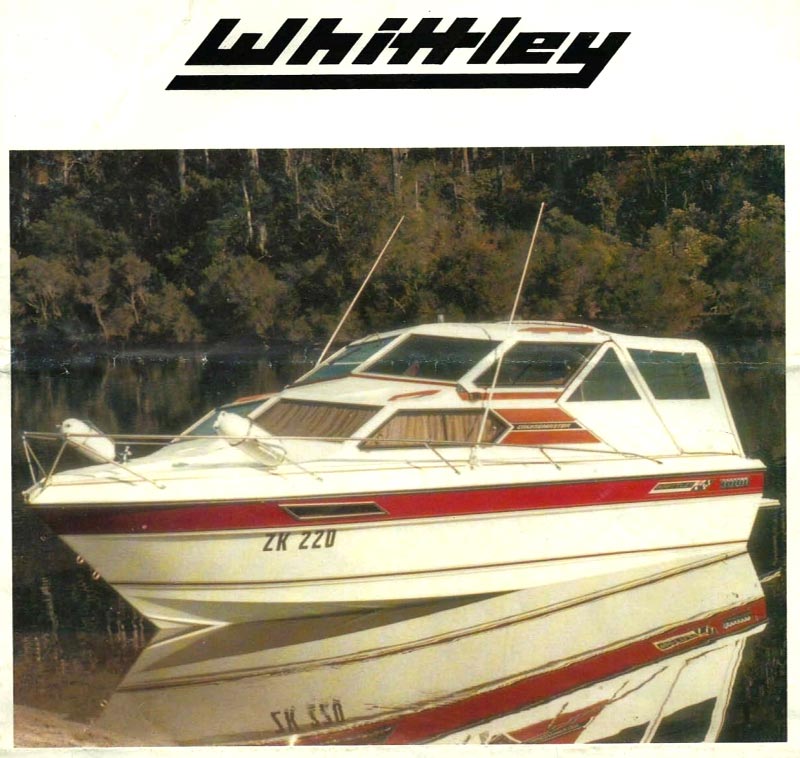 Whittley Celebrates 65 Years of Australian Boat Building with the Release of Two Cruiser Edition Fleetmaster Packages at the 2018 Melbourne Boat Show.
This year Whittley Marine is celebrating Fleetmaster 23 & Fleetmaster 26. These new cruisers will be on display at stand #D4 at the Melbourne Boat Show, from the 28th June to the 1st July at the Melbourne Convention Centre.
The Whittley Companycompany became one of the pioneers of fibreglass boat building in Australia. Today Whittley prides itself as one of Australia's premiere boat builders, employing more than 50 people and producing some of Australia's highest quality and best value fiberglass boat packages.
Whittley MarineFleetmaster model name is well known being one of the most popular sports cruiser models, since fiberglass boat building was introduced to the company. The Melbourne Boat Show is Whittley's hometown boat show, so it's the perfect time to release these new model packages. We encourage patrons to come and help celebrate Whittley's 65 year birthday and experience the Whittley range of quality boats, built right here in Victoria."
The new Fleetmaster 23 soft top sports cruiser has an overall length of 7.6 meters. Retaining all the classic Whittley hallmarks, with a standard double berth, fridge, sink, stove and toilet, along with a large moulded rear platform, the Fleetmaster 23 is ideal for water sports, extended weekend living, fishing or cruising. The hull features a computer designed variable deadrise for the perfect balance between ride and stability. Packaged with a high quality Mackay Trailer, Volvo Penta V6 200 SX and a long list of standard equipment, the soft top sports Fleetmaster 23 BMT package is available from MRRP of $99,990*.
The hard top Fleetmaster 26, features a stylish full length hard top and large sliding sunroof ideal for Australia's unique alfresco style boating. It has an overall length of 8.5 meters and remains under the legally trailerable beam of 2.5 meters. The large cabin features a stand up head and well-appointed galley, with accommodation for four adults and a sliding cabin door for privacy. If you have dreamed of owning a family sized weekender but mooring, antifouling and constant maintenance are not on your agenda then the Fleetmaster 26 could be your passport to a lifetime of memories! The larger hard top model, the Fleetmaster 26 BMT package, with a Mackay Trailer & Volvo V6 200 SX is available from MRRP of $149,990*. It represents the very best value in the local trailerable cruiser boat market.
"The two new Fleetmaster models are designed specifically for local Australian boat buyers. They offer great value with a high quality hull, motor and trailer package and are available for a limited time only. They will be on display at the Melbourne Boat Show, as well as through the Authorized Whittley dealer network. Enjoy the savings (with discounts of more than $25,000). It is a fantastic time to consider the Whittley boating lifestyle and enjoy the savings." Mr Whittley added.
The Fleetmaster models remain under the legal trailer towing width of 2.5 meters, avoiding the cumbersome over width towing regulations in each state and territory. This includes signage, flags, flashing lights and other restrictions. Whittley also offer a hassle free and easy towing experience with a high quality Mackay trailer. Powering the package is Volvo Penta's new next generation V6 200, an all aluminum block and fresh water cooled engine, which integrates seamlessly into the boat maximizing usable live aboard space.
Mr Whittley said, "Victoria is a fantastic trailer boat state and there is no better way to create lasting memories than on a new boat with your family. A legally trailerable, live aboard style family boat is the ideal way to explore Victoria's boating destinations for an extended weekend. You don't have to stay in the one location, there is so much to explore with your family. The weekend starts the moment you pull out of the driveway."
For all sales enquiries in Victoria & Melbourne, please contact 03 8339 1800, for sales enquiries on the Mornington Peninsula & South Eastern Suburbs please contact 03 9776 1662. To explore the exciting new range of Whittley fiberglass boats at this years Melbourne Boat Show, visit stand number D4, from the 28th of June through to the 1st of July at the Melbourne Convention Centre, or contact your Authorized Whittley dealer across the country.
About Whittley Marine
Whittley Marine is a third-generation Australian boat-builder based in Melbourne. This family-owned and operated company has focused its resources on providing high-quality boats to boating families since 1953. A marine industry innovator, Whittley's award-winning range of family cruisers and fishing boats truly offer "A Boat for All Seasons" – versatile boating solutions that can be enjoyed all year round.
For further information or to arrange a personal factory tour, contact: Alan Whittley, Director of Sales and Marketing, Whittley Marine Group,+61 421 170 192 or via alan@whittley.com.au. For additional information about Whittley Marine's class leading range of fiberglass boats visit www.whittleymarinegroup.com.au.
*MMRP: Manufacturers Recommended Retail Price, including all standard equipment and GST. Excludes, pre delivery charges, safety equipment, respirations and freight to dealership.
Back to News