The Club Whittley Tradition
Sunday 1 November 2020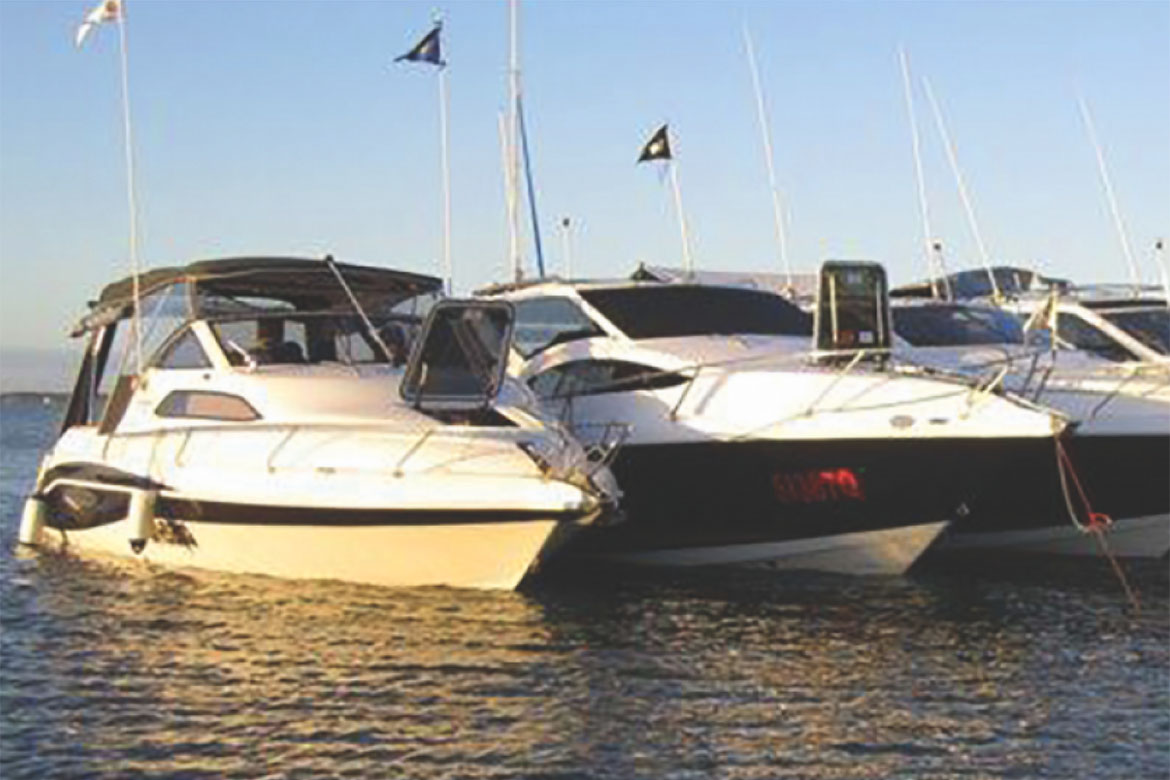 Club Whittley Queensland was born at the Sanctuary Cove International Boat Show in 1996. Northside Marine owner, Greg Nickerson, had a forming a social club for like-minded Whittley owners to plan trips together, forge lifelong friendships, and pass on valuable information abouboats to each other. There was only one requirement: you had to own a Whittley — old or new, it didn't matter. Everyone was welcome.
For the last 25 years, Club Whittley Queensland has been a well-structured, professional club that plans trips once a month for members to ctravel throughout Queensland, New South Wales and Victoria. Luckily Whittley boats are trailerable, so no matter how far we travel on the roour boats as caravans as such, during a long haul.
The committee plans twelve trips per year, and a calendar is produced shortly after the AGM, usually held in August, that will outline the nextplan an overnight stay or two, depending if there is a long weekend. We do try to plan our trips that are on long weekends for longer breaks sBay, Fraser Island, and New South Wales. We have also planned two-week trips to places such as the Whitsundays. Oh, the beauty of owning.
National rallies are planned every two years, as Whittley Boats are owned, built and proudly Australian-made in Melbourne. We travel to eachrallies, which can have as many as 60-70 boats participate. These rallies are planned for years in advance and great fun!
Club Whittley Queensland has a private Facebook page for fi nancial members. Most weekends, weather permitting, someone would post thesomewhere and ask if anyone would like to join them. Membership is only $72 per year and what you learn from the Club is priceless.
The main reason my husband and I joined Club Whittley Queensland was to gain experience. We were pretty new to boating at the time, andas your fi rst boat was a little daunting. But I wanted it badly! I was researching the Whittley CR2080 stern drive for quite some time and the Ccame up in Google, and then I realised they were on Facebook as well.
One day we were sitting on the verandah of the Moreton Bay Trailer Boat Club at Manly, and we watched a Whittley come in and went over toowner. He just happened to be the treasurer of the Club. They welcomed us aboard their boat and told us so much then and there, that the nowned a CR2080. This encounter gave both my husband and I the confi dence we could get the boat we really wanted and have suffi cient helplaunch- and-retrieve, which we all know can be the most stressful part of boating. We joined the Club that same week and went on every trip from there on. Everyone in the Club was so eager to pass on their experience that we have learnt so much about the boat. We were confi denhave also met people who will be lifelong friends. It doesn't matter how new to boating you may be; everyone is willing to lend a hand.
During our most recent trip, for instance, we encountered a mechanical problem and a hose burst. The boat was taking on water. Naturally, IBut over the radio, the advice was to beach the boat, pump out the water, and look for the leak. We had 18 boats on this trip around Bribie, awas dealt with quickly, easily and calmly. Thank goodness for my wonderful Club!
We have had people travel from as far as Melbourne to the Whitsundays. The best thing about Club Whittley being in almost every state is thcheck with interstate clubs what trips are coming up and tag along as you are travelling the coast, making lifelong friends and gaining experieway.
Our last trip was planned for 6-7 June to Bribie Island. Although the Covid-19 pandemic threw a little spanner in the calendar, we still had a fa18 boats! This trip was coordinated by Julian Cox, the outgoing Commodore, and a scuba instructor for most of his adult life. He lives up that the area extremely well. We launched from the Bribie VMR. It was great as with so many members there, everyone gave a hand at launching,proved the retrieval wasn't as easy as we hoped. Wind picked up, the current was strong and we had six Whittley boats trying to get in as welnon-Whittley boats and jetskis. None of us left the ramp until we were all in and safely on the trailer. Even the most experienced skipper was hand as it just makes it so much easier.
Members came from the Gold Coast, Ipswich, Northside, Bayside and a few were locals, so they were able to launch either from their own calocal ramps. Some stayed at a marina for the fi rst night and some stayed on the water at Bongaree. The plan was to all meet at Bongaree by and travel up to Mission Point campsite, where we had a bonfi re on the beach for happy hour and a very peaceful sleep in glassed-out waterapproximately 50 people, and we were all very conscious of the social distancing rule of 20 in a gathering, so formed groups that rotated arofi re on the shore. Our biggest delight was seeing the kids having so much fun! We are super excited that more and more kids are coming intogaining more members all the time and love seeing more kids coming each time, with just a ball and no iPads in sight!
We have all sorts of Whittley models in our Club, from CW1650 to the CR2800. The majority of boats are somewhere in the middle, CR2080s, then up to the CR2600s, and a couple of CR2800s, which is the largest in the Whittley fleet.
These trips are very professionally planned by the person who knows the areas best, knows the currents, and knows the best places to stay tof the wind. These trips are planned 12 months in advance, but the fi ne tuning comes into play around two weeks out, and then is closely motrip coordinator and the Commodore of the Club, who puts together a planned route, tides, and weather, and advises on the best launch locawindy and could be deemed unsafe, the trip is cancelled or postponed.
While underway and following each other, the trip coordinator reminds us over the radio to keep a safe distance away from each other. Everycommunicate with each other if any problems arise, which are swiftly accessed. Advice from the many highly experienced boaties is given to required.
When coming ashore, the trip coordinator will call the national park, camp sites or marina to advise us of their protocols. We have been very private property owners more than happy to let us tender up to their land for happy hour and catch up, or even for a fi re in winter.
If it wasn't for Club Whittley Queensland, we wouldn't get half the use out of our boat as we do, and would not travel to places we would neveWe quickly discovered, while using our boat so much, that we needed more storage, a bigger fuel tank, and more fresh water. So we sold thenow proud owners of the CR2600 Sterndrive. I have become passionate about the brand "Whittley" and the wonderful lifestyle, and the friendlike family.
Whittley has the perfect model for everyone. Whether it is fi shing, cruising, or wine and crackers at sunset, you would be hard-matched to fi nfi nished boat with all the options, handling abilities, and the good looks of a Whittley. All Whittley boats are now available as an outboard. At Sales, we can put together the perfect package to suit your needs. With every new boat purchased, Whittley Qld Sales includes a free one-yeaour Club, which can be invaluable to the new boatie, just as it was to us and still is.
Our next planned trip is September on the Gold Coast Broadwater, and conditions being great, we will cross the bar at the Spit and venture owhales. October brings the long weekend and the popular Fraser Island Trip.
By Lisa Greig
Back to News