Newsletter
Stay up to date with all the latest Whittley News!
Facebook
Follow on Facebook for updates from us and our partners!
Follow us
Brochure
Get a digital copy of our brochure emailed to you
Half a century of boat building has brought many changes to Whittley – new materials, purpose-built premises and new technologies. Whittley Marine has succeeded in balancing traditional core values with constant improvement and delivers on that original promise of quality and innovation.
The adoption of fibreglass in the late 1960s changed Whittley forever, and produced two landmark models: the Voyager, a genuine live-aboard family cruiser; and the Puma, a rakish, high-sided runabout that later morphed into the Cherokee. Together, they permanently put Whittley on the boating map.
More recently, Whittley introduced the latest computer aided design and manufacturing (CAD-CAM) systems. While craftsmanship and attention to detail are still at the heart of every Whittley, innovations in technology enable the company to improve its quality, efficiency and design.
Take a 3D vitual tour of the Whittley showroom here!
Build a Boat to suit your lifestyle
LATEST DEALS
2020 SL 20 MODEL
FROM $69,990*
The Whittley SL 20 is the perfect package. Powered by a Yamaha F 130 4 Stroke Outboard, Mackay Dual Axle Mechanically Braked Trailer and too many options to list. Call 03 8339 1800 for more information.
LATEST NEWS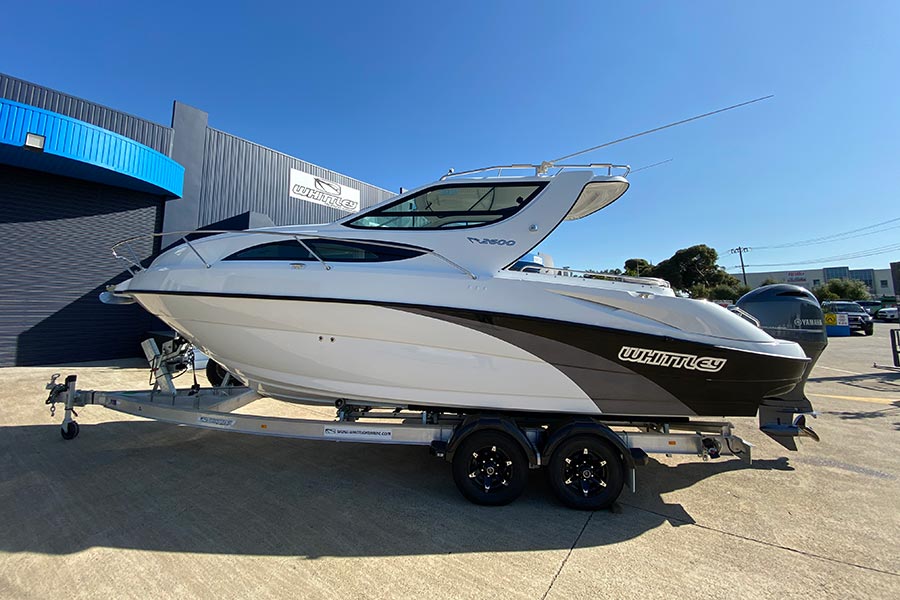 LEGALLY TRAILERABLE OUTBOARD
New CR 2600 OB
Whittley is set to release their new CR 2600 OB, a purpose built, legally trailerable outboard powered sports cruiser that's designed for the unique Australian boating lifestyle.
LATEST VIDEOS
SA ON THE SL 25 HT OB
The Captain Magazine Review
Join the Captain Magazine as they explore SA in the luxury of the SL 25 HT OB Coast Tourer Edition. For more information about the Coast Tourer Edition contact your local authorised dealer.